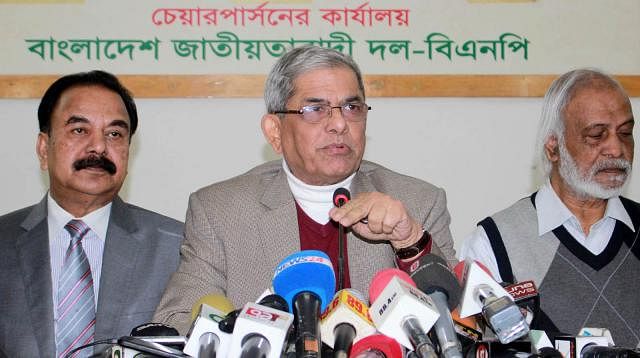 Bangladesh Nationalist Party (BNP) secretary general Mirza Fakhrul Islam Alamgir said the prime minister's statements on the election-time government will only deepen the country's political crisis, reports UNB.
Speaking at a press conference at the party chairperson's Gulshan office on Saturday, the BNP leader urged the prime minister to shun her 'stubbornness', and take steps for an acceptable election under a neutral government through discussion with the opposition parties for the sake of peace, people's welfare and stability.
Mirza Fakhrul also said the prime minister should take an initiative for holding dialogue with all the stakeholders if she has any new idea on the election-time government.
"It's the only way to take Bangladesh forward. Let's play a responsible role."
"Prime minister Sheikh Hasina's statements will only deepen the current crisis over the election as there is clear provision in the constitution about the election-time government," Fakhrul added.
"People have got frustrated, surprised, and worried with the prime minister's address to the nation. There is no clear outline in her speech to resolve the existing national crisis. What she has talked about the next parliamentary polls is very ambiguous and confusing," said Mirza Fakhrul Islam Alamgir.
"Our party thinks it'll be possible to get a meaningful solution to the problem over 2018 election through talks in a cordial atmosphere. We also want to believe that the uncertainty (over polls) prevailing in people's mind will be possible to remove if the dialogue is held in a congenial atmosphere."
BNP arranged the press meet to give its formal reaction to the prime minister's address to the nation.
In her address to the nation on Friday, the prime minister said the next general election will be held as per the constitution, and expressed her high optimism that all the parties registered with the Election Commission will take part in the polls for upholding the country's democratic process.
"In line with the constitution, the 11th parliamentary elections will be held towards the end of 2018. How the election will be held is clearly stated in our constitution. An election-time government will be formed under the constitution which will provide all-out cooperation to the Election Commission to conduct the election," the PM said.
"The next election won't be free and fair if it's held under a partisan government keeping parliament functional as per the current constitution. Because the election time-government will be similar to the existing one if parliament remains in place," Mirza Fakhrul observed.
He said their party will come up with its proposal on the election-time government at the appropriate time.
Fakhrul said there is no similarity between the reality and the statistics the prime minister presented about the country's development in her address to the nation.
BNP standing committee members Gayeshwar Chandra Roy, Abdul Moyeen Khan, Nazrul Islam Khan and Amir Khasru Mahmud were present.