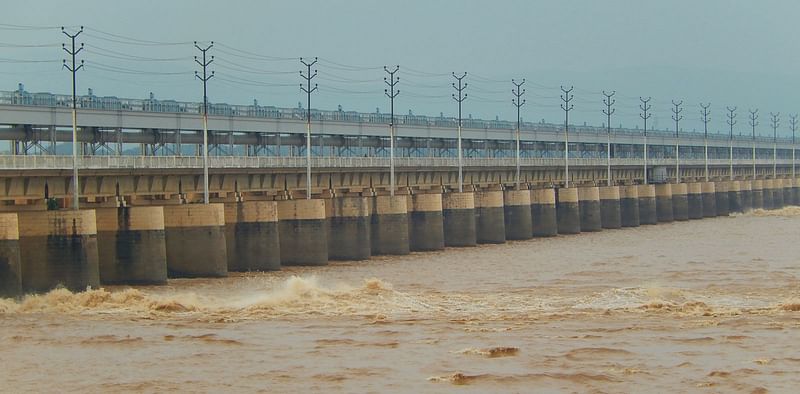 A special conference has held Farakka barrage and Galzaldoba dam constructed by India responsible for monsoon flooding in Bangladesh.
The findings of the January conference, made public on Monday, said the dams constructed in the upstream rivers have put serious detrimental effects on the rivers and ecology in Bangladesh.
Bangladesh Paribesh Andolon (BAPA) and Bangladesh Environment Network (BEN) jointly organised the special conference titled 'Flood, Water Logging and Landslide' with the participation of local and international experts on 12-13 January this year in Dhaka.
As much as 71 papers were presented by 80 environment experts in 15 sessions of the conference.
The organisers of the conference - BAPA and BEN - disclosed the 59 points of findings at a press conference at the Dhaka Reporters' Unity in the capital on Monday.
"The recent flood has once again proved that we are yet to find any solution to the flood problems of the country," said BAPA joint secretary Iqbal Habib.
The conference suggests that Bangladesh should immediately sign the 1997's Convention on the Law of the Non-Navigational Uses of International Watercourses of the United Nations.
Habib said the conference also asked Bangladesh to inspire India and other neighbouring countries to sign the convention to ensure fair shares of international waters for Bangladesh.
"We must not blindly follow the prescription of foreign experts and aid groups regarding the policy of rivers and waters," observed the experts, as quoted by Habib, adding, "We must learn from the past mistakes."
They suggested that the government should involve local people in repairing and maintaining flood control infrastructures.
He said the conference expressed its concern over indiscriminate construction of infrastructures in the hill tracts, deforestation, hill cutting and unauthorised human settlement and agricultural activities in the hill tracts.
The conference observed that the reason of the most of the landslides in the CHT region in July 2017, which claimed more than 130 lives, was a manmade one.
The conference also expressed its concerns over the increasing risk of deforestation created due to the migration of Rohingya people.
Water-logging problem in Dhaka and other cities has worsened because of indiscriminate construction on dams on riverbanks around the capital.
Vice president of BAPA M Firoze Ahmed, secretary general Md Abdul Matin, Dhaka representative of BEN Mahmudur Rahman and central member of BAPA Ruhin Hussain Prince were also present at the programme.