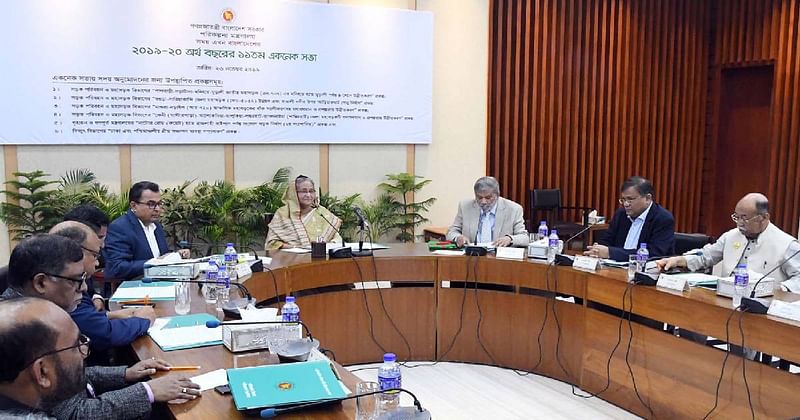 The Executive Committee of the National Economic Council (ECNEC) on Tuesday approved six projects involving Tk 73.12 billion, including a Tk 59.5 billion scheme to expand Dhaka and Western Zone Transmission Grid to different upazilas in 17 districts of Dhaka, Khulna and Barishal divisions.
The approval came from the weekly ECNEC meeting held at NEC conference room with ECNEC chairperson and prime minister Sheikh Hasina in the chair.
"Today's ECNEC meeting cleared six projects involving Tk 73.1255 billion," said planning minister MA Mannan while briefing reporters after the meeting.
Of the total cost, Tk 27.7856 billion will come from government fund, while Tk 3.2169 billion from the own fund of organisation concerned (PGCB) and Tk 42.123 billion from foreign sources as project loan, he said.
Among the approved projects, five are new and one is a revised one, which is Construction of Link Road from Natore Road (RUET) to Rajshahi Bypass (2nd revised) involving TK 2.0664 billion.
According to the Planning Commission factsheet, the Dhaka and Western Zone Transmission Grid Expansion Project will be implemented by June 2024 for meeting the growing electricity demand through enhancing capacity and strengthening the existing transmission infrastructure.
Power Grid Company of Bangladesh (PGCB) will implement the project with an estimated cost of Tk 59.4995 billion in different upazilas of 17 districts including Dhaka, Faridpur, and Madaripur, Gazipur, and Narayanganj, Gopalganj, and Pirojpur, Bhola, and Jhalakathi, Patuakhali, and Bagerhat, Jashore, and Khulna, Kushtia, and Meherpur, Satkhira.
Of the cost, Tk 42.123 billion will come from the Asian Development Bank (ADB) and Asian Infrastructure Investment Bank (AIIB) as project loan, while Tk 14.196 billion from the national exchequer and Tk 3.2169 billion from the own fund of PGCB.
The rest four projects were placed for the clearance of Ecnec to improve highways in four places.
Those are improvement, width expansion and straightening of Magura-Narail regional highway involving with Tk 7.2397 billion; improvement of Bogura-Sariakandia district highway and construction of Ariarghat bridge over Bangali river with Tk 2.4097 billion; upgrading Palbari-Dartana-Manihar-Murali national highway (Jashore) into four-lane with Tk 1.3117 billion; and improvement and width expansion of Feni (Masterpara)-Alokdia-Valukia-Laskarhat-Chhagalnaiya (Shantirhat) district highway with Tk 598.5 million.