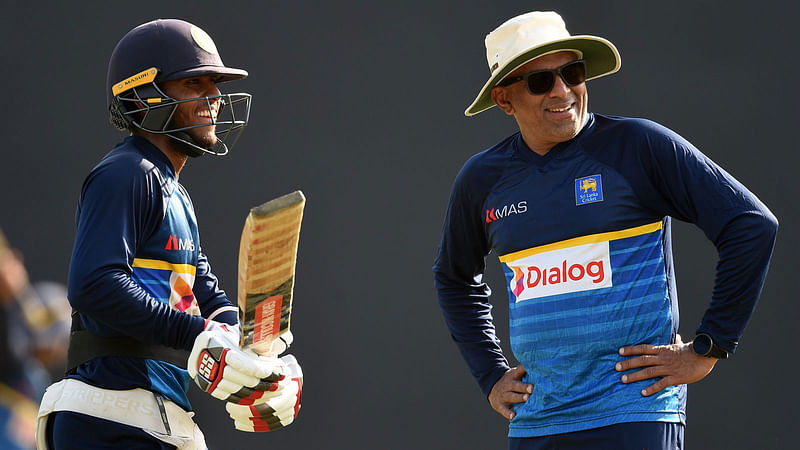 New Sri Lanka cricket coach Chandika Hathurusingha pledged to get tough with the under-performing national team-including banning music in training-while demanding "full control" over selection.
With the 1996 World Cup winners coming to the end of their worst year in international cricket, Hathurusingha said he would impose strict discipline to make sure they are ready for the 2019 World Cup.
Asked about reports that players were admonished for listening to music in practice, Hathurusingha said after his first training session with the team on Thursday: "If they are interested in music they will have to go home."
Sri Lanka, who tour Bangladesh next month, have been severely criticised over whitewash defeats by India at home and in India in the past six months.
Sports Minister Dayasiri Jayasekera said in June that many players were "too fat" and that none chosen to play a series against Zimbabwe had passed international fitness standards. A special diet was later imposed.
Hathurusingha, a former Sri Lanka batsman who quit as Bangladesh coach to help his home country, also signalled a tougher line with the government, which gets the final say in team affairs.
Jayasekera recently stopped the Sri Lankan T20 team from going to India because he did not agree with the selection.
The chief coach is not an automatic member of the selectors' panel and Hathurusingha wants this changed-even if it means a new sports law.
"I need full control and responsibility to pick the playing eleven," Hathurusingha said.
"According to the sports law the coach can't get involved in selections. They are considering my request to be a selector while being the coach," added the 49-year-old.
After giving up playing Hathurusingha has become a top coach, earning plaudits for pulling Bangladesh up the world rankings.
Hathurusingha has also been in charge of the New South Wales team in Australia, and he said he would bring in sports psychologist Phil Jauncey who worked with him in New South Wales and Bangladesh.
"I want to see him make visits from time to time to work with the players," Hathurusingha said.
In 57 internationals across all three formats in 2017, Sri Lanka lost 40 and won just 14.