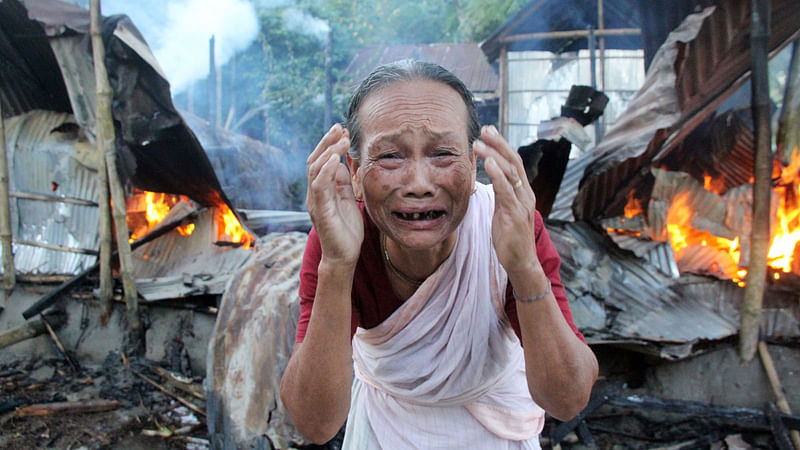 A man was killed and 20 others including four policemen injured in a clash between law enforcers and locals at Thakurbari village in Sadar upazila of Rangpur on Friday over a youth's Facebook post 'demeaning' Prophet Hazrat Muhammad (PUBH), reports UNB.
Additional superintendent of police (Circle A) Saifur Rahman said Titu Chandra, a resident of Thakurbari village, has posted a picture in his Facebook account with derogatory remarks about Prophet Hazrat Muhammad (PUBH).
Over the issue, several hundred people gathered at Pagla Pirer Bazar, adjacent to Thakurbari village, after Juma prayers and started chanting slogans demanding immediate arrest of Titu Chandra, he said.
Later, around 8,000 people from nearby villages thronged the bazaar and marched towards Thakurbari village, a Hindu-dominated village.
Reaching the village, the angry people vandalised and torched 8-10 houses of the Hindu community, the additional SP said.
On information, police rushed in, charged baton, fired rubber bullets and lobbed teargas canisters to disperse the agitating people, leaving six people injured with bullets.
One of the injured -- Hasan -- died while being moved to Rangpur Medical College Hospital, Saifur said.
Later, the angry mob blocked Rangpur-Syedpur road and vandalised several moving vehicles.
Saifur said additional police personnel were called in to bring the situation under control.