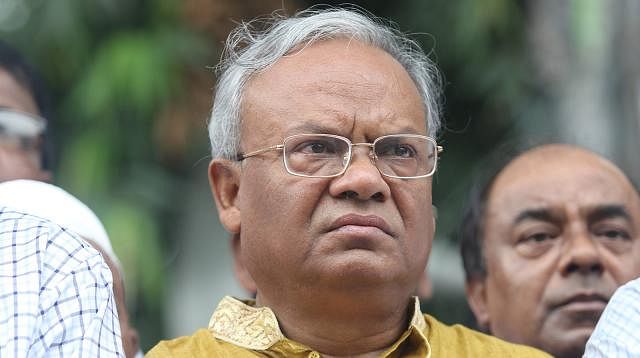 Claiming that 1,209 people were made disappeared in Awami League's last 10 years' rule, BNP on Friday said those involved in such crimes against humanity will be brought to justice someday through proper investigations, reports UNB.

"A total of 1,209 people were made disappeared since Awami League formed the government in 2009. Of them, 781 were subjected to enforced disappearance by law enforcers," said BNP senior joint secretary general Ruhul Kabir Rizvi.

He came up with the remarks while speaking at a press conference at BNP's Naya Paltan central office on the occasion of International Day of the Victims of Enforced Disappearances.

The BNP leader also said over a thousand leaders and activists of their party and its associate bodies, including M Ilias Ali, Saiful Islam Hiru, Chowdhury Alam, Humayun Kabir Parvez, Sumon, Jakir, Nizamuddin Munna, Tariqul Islam Jhantu, Adnan Chowdhury, Sohel, Khaled Hossain, Samrat Molla and Mahbub, are among the enforced disappearance victims.

He said the family members of the victims are still waiting to get their missing near and dear ones back. "Many children are waiting with a hope of the safe return of their fathers while many parents are left worried over the fate of their missing sons."

Describing the enforced disappearance as a dangerous crime against humanity, he said it began in the country in 1972 with a political motive. "It continues in Bangladesh with the same motive. The ruling party resorted to an inhuman programme like enforced disappearance to annihilate democracy."

Rizvi said the ruling party is using enforce disappearance as a weapon to eliminate opposition and alternative opinions, and suppress people's voice to prolong its 'authoratorian one-party rule'.
"Those involved in such brutal acts are comparable to ferocious animals."

Accusing Awami League of introducing enforced disappearance in the country, he said it is impossible to make people disappeared without 'state patronage'.

He said though the UN and global human rights bodies have repeatedly been calling upon the government to stop the enforced disappearance, the ruling party leaders and ministers are trashing the allegations of such incidents calling those a propaganda against the government.