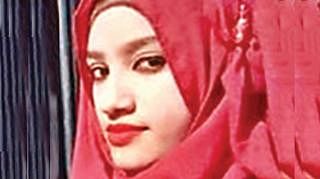 A Feni court on Thursday placed Shamim, an accused in madrasa student Nusrat Jahan Rafi murder case, on a 5-day remand.
Senior judicial magistrate Soraf Uddin Ahmed passed the order after inspector Shah Alam of Police Bureau of Investigation (PBI), also investigation officer of the case, produced him before the court seeking a seven-day remand.
Meanwhile, another accused Abdur Rahim Sharif on Wednesday reportedly gave confessional statement in the murder case.
Judge Soraf Uddin Ahmed recorded Sharif's statement under section 164 from 3:30pm to 9:30pm.
He confessed that the murder plan was finalised in a meeting attended by 12 people following an order by madrasa principal Sirajuddoula.
They met with the principal at the jail on 28, 30 March. Later, they made the final plan at a meeting on 4 April in presence of 12 people. He was assigned to guard the gate while Nur Uddin and Abdul Kader were with him.
Shahadat, Jubayer and Jaber went to the roof wearing burka along with Kamrun Nahar Moni and Umme Sultana Popy, he said.
Abdur Rahim was arrested from Dhaka's Kamrangirchar area on Tuesday night.
Earlier, two other accused Nur Uddin and Shahadat Hossain Shamim gave confessional statement in the case.
A total 17 people have so far been arrested in the case. Among them, eight people are FIR (First information report) enlisted.
On 6 April, Nusrat was set afire at an examination centre allegedly by people loyal to the principal of her madrasa after he was arrested and subsequently suspended as she had accused him of sexually harassing her in Sonagazi upazila of Feni district.
Nusrat Jahan lost her battle for life on 10 April at Dhaka Medical College Hospital in the capital.