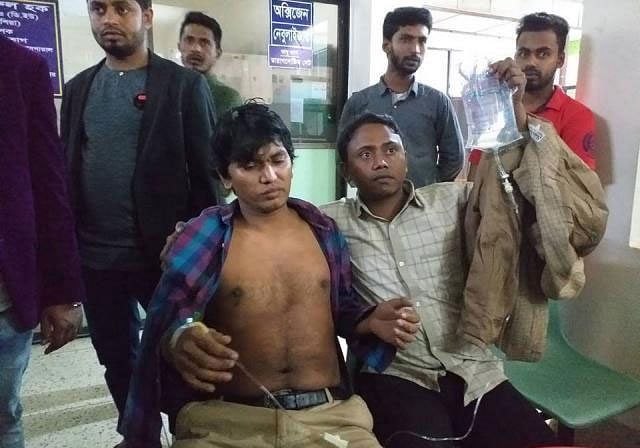 A number of Bangladesh Chhatra League (BCL) activists have allegedly beaten five leaders of the quota reform movement on the Dhaka University campus while they were preparing for a human chain demanding a safe Bangladesh.
The BCL men reportedly beat the leaders of the platform at Teacher-Student Centre (TSC) around 2:30pm on Sunday, minutes before their scheduled programme.
According to the Bangladesh Sadharan Chhatra Odhikar Sangrakkhan Parishad leaders, those who were injured in the attack are the platform's joint convenors Sohrab Hossain, Bin Yamin Molla, Jasim Uddin, Ahmed Kabir and Md Tareq Rahman.
The quota reform movement platform's joint convenor Sohrab Hossain, who was also beaten by the BCL men, told Prothom Alo over phone that they had a plan to hold a human chain to press home their demands for a safe Bangladesh at the foot of Raju Memorial Sculpture on the campus at 3:00pm.
When they went to the TSC cafeteria to have lunch before the programme, about 60-70 BCL activists from different hall units attacked them.
Sohrab alleged that the BCL activists also beat joint convenors of the platform -- Bin Yamin Molla and Jasim Uddin Akash.
Soahrab, who is now undergoing treatment at a city hospital, also said Muktijoddha Ziaur Rahman hall unit's BCL vice president Sohanur Rahman and Seargent Zahurul Haque hall unit's school affairs secretary Shahidul Shan led the attack.
When contacted, the platform's another joint convenor Nurul Haque said five of their joint convenors had been beaten. "The condition of three among them is critical."
Nurul said they planned the human chain given the tense situation prevailing across the country.
"As the university administration earlier did not take any actions against the BCL leaders, they attacked us again."
They will now stage a demonstration condemning the attack, he added.
"We've been informed that a clash ensued between two student organisations to create something on the campus. But, they did not file any complaint to us," said DU proctor AKM Golam Rabbani.
Dhaka University BCL secretary general Saddam Hossain said, "I didn't hear anything like that. We have to look into the matter first."
"Sadharan Chhatra Odhikar Sangrakkhan Parishad had been executing a movement for a particular issue. We saw the end of the movement. We don't know why they now want to mislead the students.
"I can't understand why people point fingers to the Chhatra League after any incident," he further said.