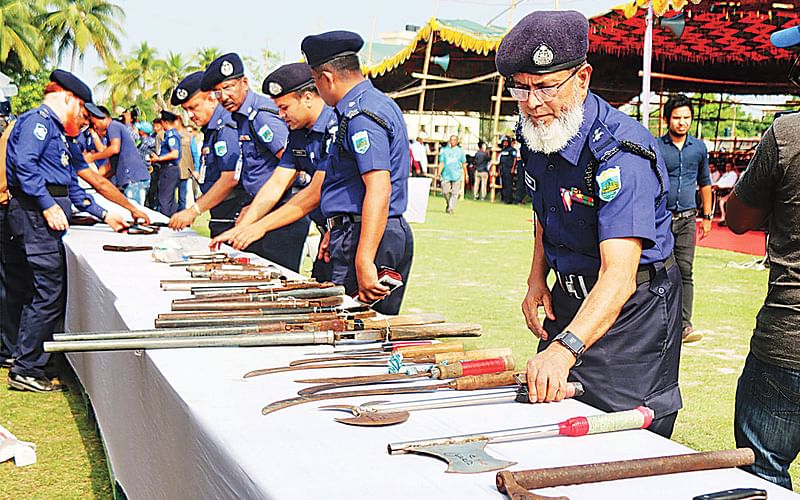 The 80 'extremists' of Joypurhat who surrendered at an event in the presence of the home minister Asaduzzaman Khan in Pabna in April 2019, are evidently not extremists at all. 
Of these 80, at least seven were sentenced to death and were either imprisoned or absconding, a Prothom Alo investigation shows.
There were also criminals and drug traders among these so-called extremists.
Of the 80 'extremists', 22 belonged to Bangladesh Nationalist Party (BNP) or its youth front Jatiyatabadi Chhatra Dal (JCD) or its student wing Jatiyatabadi Chhatra Dal (JCD) and the rest were from ruling Awami League's youth front Jubo League and its affiliated organisation Swechchhasebak League, according to the investigation.
They only pretended to be extremists so that they could be exempted from their charges and get financial incentives from the government, said local policemen and political leaders.

The 80 'extremists' of Joypurhat along with 515 others from 14 districts surrendered on 9 April 2019.
The government has provided Tk 100,000 as incentive to every person who surrendered and Tk 1 million to every ringleader.
A total of 16 ringleaders led the surrender programme. Ramzan Ali was the leader of Joypurhat. He is also joint general secretary of Swechchhasebak League of the district unit. He is facing several cases.
Nandalal Parshi, a district committee member of Joypurhat Awami League, told Prothom Alo that he also submitted the names of some local youth to Ramzan Ali so that the charges against them would be dropped and that they could also receive money from the government.
The members of an intelligence agency were also involved in preparing the list, but there was no extremist in Joypourhat, he added.
Ramzan Ali, however, made no comment when contacted.
Ramzan's brother Selim Babu is on the list of these 'extremists'. He said, "Many young men pretended to be extremists just to be exempted from charges against them. So what is wrong with my name being included too?"
Romanur Rahman is a member of district Jubo League. He told Prothom Alo that he submitted names as advised by Ramzan and Nandalal Parshi.
The entire list is fake, said Romanur.
Two persons on the list are not even facing any charges. One of them is Mukta Biswas, nephew of Nandalal Parshi and other is Nuruzzaman Babu, an activist of Swechchhasebak League.
About Mukta, Nandalal said his nephew was kept on the list as he is a friend of Ramzan.
Nuruzzaman Babu said, "I agreed to surrender as my leader Ramzan told me that the government will give me Tk 100,000. I'm badly in need of the money."
Pabna's additional superintendent of police Gautam Kumar Biswas told Prothom Alo that they freed all who surrendered. News of surrender plan surfaced in the media in early April, an intelligence agency reportedly being behind the plan.
A top police official said the list of 'extremists' was supposed to be prepared by the police. However, they did nothing but sign some papers, he added.
Superintendent of police of Joypurhat, Rashidul Hasan, told Prothom Alo, "As far we know, there is no extremist in Joypurhat. Despite that, we received a list of 71 extremists which was sent to Pabna."
But several police officers said that the list was made later, including nine more names. Then the death row convicts were added too.
The Joypurhat police officers also said that the first list did not include names of the seven death row convicts. The convicts are Sadar upazila's Bambu union's Wazed Ali, Abu Hassan (Wazed's son), Mahir Uddin, Chaitanya, Safadul Islam, Anisur Rahman and Mantu Miah.
A lower court sentenced the seven people to death over Jubo League leader Abdul Matin's murder.
Wazed Ali's son Jewel Rana said, "I don't know whether my father was an extremist or not."
Another person, Mahbub Ali, who was sentenced to life imprisonment in the same case, said, "There are several cases against us. Ruling party leaders told us to surrender pretending to be extremists. And so we did."
According to police documents, at least six people of the list are terrorists and drug traders. Of them, Ismail Hossain is facing 17 cases.
Former law minister Shafique Ahmed told Prothom Alo that only the court has the authority to exempt, suspend or cancel one's conviction.
Home minister Asaduzzaman Khan told Prothom Alo, "The police did not prepare the list. I was just present during the surrender event as chief guest."
The minister also said that he does not know anything about the process the list was made but assured that anyone facing charges would only be exempted thorugh legal means.
*The report, originally published in Prothom Alo print edition, has been rewritten in English by Imam Hossain