Around 3:10 on the night of 15 October, a bus stopped at the Science Laboratory intersection, near Dhanmondi Road 1.
CCTV footage shows a medical officer of the health directorate, Muhammed Iqbal Mahmud, alighted from the bus and was immediately picked up by seven or eight persons who whisked him away in a microbus.
A police van was seen following the microbus. There has been no news of this doctor since then.
Muhammed Iqbal Mahmud was working at the Laxmipur sadar hospital after passing the 28th BCS exam. He was then transferred to Comilla medical college. On 10 October he came to Dhaka for two months' training at the Bangabandhu Sheikh Mujib Medical University (BSMMU). His wife is also a physician. She and her children live with her in-laws in Laxmipur. Iqbal Mahmud had returned to Dhaka that night after spending a holiday with them.
At a press conference on Thursday, held at the National Press Club, AKM Nurul Alam, father of the abducted medical officer, accused the law enforcement agencies of not cooperating. He said he had wanted to file a case with the Dhanmondi police station on that day, but the police were hesitant to take the case. They finally took it after midnight on the next day.
In his statement he described what he saw on the CCTV footage. He said that shopkeepers and rickshaw-pullers there at the time, were eye-witnesses of the incident. Till yesterday, Thursday, the police could not report on any progress made in investigations.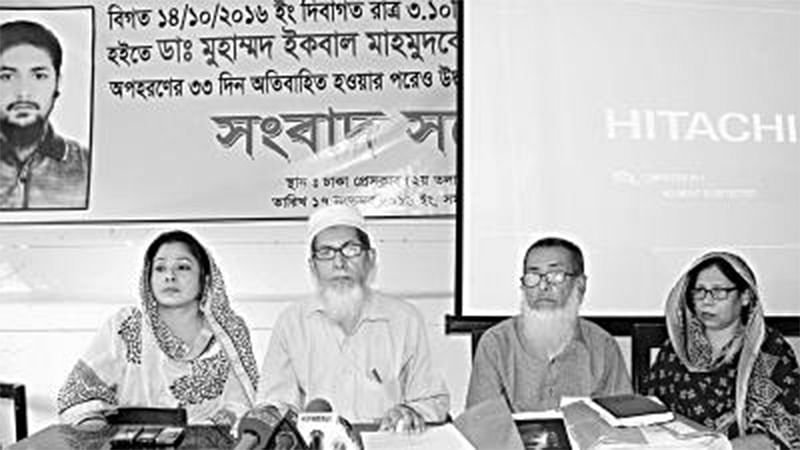 At the press conference, AKM Nurul Alam said, "None of the abductors wore masks. Despite having the latest equipment, the law enforcement agencies till now have not been able to rescue my son, or even identify the microbus, the motorcycle, the police vehicle or any of the abductors. They are playing a silent and mysterious role."
He said his son was not involved in politics and had no enemies. He used to be an activist of religious group Tablighi Jamaat, but there were no accusations of militancy against him.
Nurul Alam said he was a freedom fighter and his son was not misguided.
Officer-in-charge (OC) of the Dhanmondi police station Mohammed Abdul Latif told Prothom Alo, efforts were on to find the missing physician. It has been 33 days since the incident but they have no clue as to why a police vehicle had been on the spot or from which police station it had come.
The Dhanmondi police OC said that the father of the abducted physician had sent one lakh taka to four different 'Bikash' numbers to find his son. They were looking into where the money had been sent. The detective branch of police has been asked to assist in the case.
Prothom Alo's Laxmipur correspondent spoke to Iqbal Mahmud's neighbours. They said he would work with Tablighi Jamaat but could not say if he was involved in anything else. His wife runs a private clinic in Laxmipur.