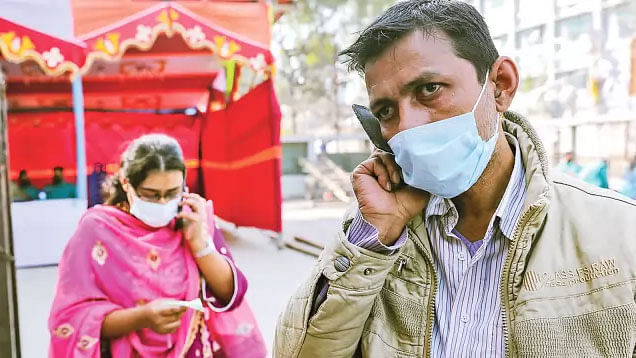 A total of 20 Chinese citizens have been quarantined in Bangladesh's southern district as a cautionary measure against the outbreak of coronavirus that originally spread from China.
Officials of the health department have confirmed the quarantine and said the China nationals had come to Bangladesh on or after 23 January and have been kept in a building closed off to visitors.
Earlier on 1 February, 312 Bangladeshis were brought back from China's Wuhan, the epicentre of the new virus outbreak, and have since been kept in Ashkona Hajj Camp in Uttara, Dhaka.
The Institute of Epidemiology, Disease Control and Research (IEDCR) has said the returnees are in good health and five among them including two mothers and their children have been quarantined separately.
According to government officials, the health condition of the China nationals and Bangladeshis back from China are strictly being monitored while already seven Bangladeshis have been admitted to Kurmitola General Hospital and three to Combined Military Hospital.
On Sunday, foreign minister AK Abdul Momen told the media that visa on arrival for China nationals had been suspended for one month in temporary measures following the outbreak.
The first reported death by coronavirus occurred on 9 January in China's Wuhan. By 3 February, the death toll surged past 360 and since emerging out of Wuhan late last year, more than 17,200 people across China have been infected while the disease reached about 25 nations.
Outside of China, the Philippines reported the first death from the mysterious virus on 2 February.
Amid the growing concerns World Health Organization (WHO) declared a world-wide coronavirus emergency on 30 January. It said evidences were available, in several countries that the virus transmits from human to human.
A number of China nationals have been working in a number projects currently undergoing in Bangladesh. Some 5,000 people came to Bangladesh from China since the virus breakout.
The 20 quarantined China nationals came to work in a power plant project in the southern region, according to the health department, Barishal and concerned upazila health officer.
They were screened at the airports both in China and Dhaka, but were taken into isolation for further security measures.
Officials from several projects where China citizens are involved include Padma bridge, Payra power plant, Barapukuria coal mine. They are keeping contact with the government, said Meerjady Sabrina, director of IEDCR and added that they were advised to isolate those who are coming from China.
As of 2 February, relatives of the quarantined Bangladeshis were visiting Ashkona Hajj Camp with food, clothes and so on though no one was allowed to enter. The essentials were provided to the returnees by the government officials and employees.
Earlier, a China national was admitted into a private hospital with fever and another Bangladeshi software engineer returned from China was admitted to Kurmitola hospital with fever too.
According to the IEDCR, the saliva samples of the admitted people were collected and no coronavirus was found.
The government has been saying from the onset of the outbreak that steps have been taken for screening at airports and land ports while government hospitals have been ordered to maintain separate rooms.