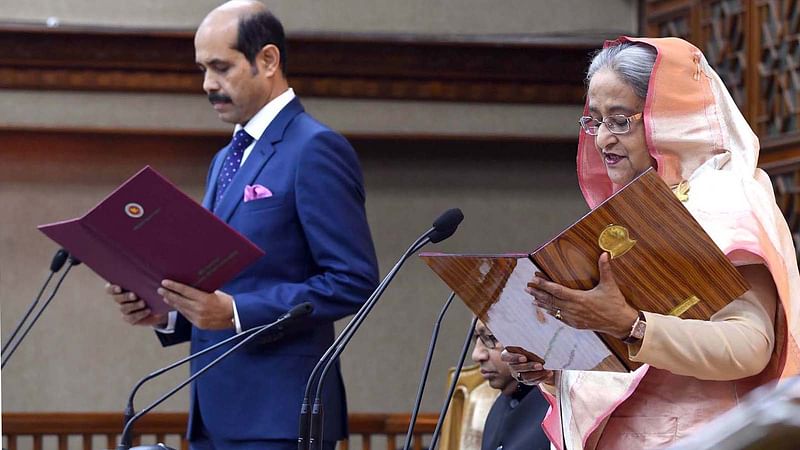 Newly-elected mayor of Dhaka North City Corporation (DNCC) Md Atiqul Islam took oath of office on Thursday, reports UNB.
Prime minister Sheikh Hasina administered the oath at a ceremony at Shapla Hall of her office (PMO) in the capital city.
Later, 38 newly-elected general councillors and 12 female councillors of the reserved seats, who were elected from the extended areas of the capital's two city corporations, were also sworn in at the same venue.
Local government, rural development and cooperatives minister Md Tajul Islam administered the oath to the councillors.
Local government division's senior secretary SM Ghulam Farooque conducted the oath-taking ceremony where state minister for LGRD Swapan Bhattacharjee was also present.
On 28 February, ruling Bangladesh Awami League candidate Atiqul Islam won the by-elections to the DNCC mayoral post by a huge margin.
Atiqul bagged 839,302 votes while his nearest rival Shafin Ahmed of Jatiya Party got 52,429 in the by-elections, which saw thin presence of voters.
On the same day, 38 general councillor candidates and 12 female councillor contenders won the polls held in 20 wards of DNCC and 18 wards of Dhaka South City Corporation (DSCC).
Of them, 20 general councillors and six female councillors of reserved seats were elected from DNCC, while the remaining 18 general councillors and six female councillors of six reserved seats elected from DSCC.
The DNCC mayoral post fell vacant with the death of mayor Annisul Huq on 30 November 2017.