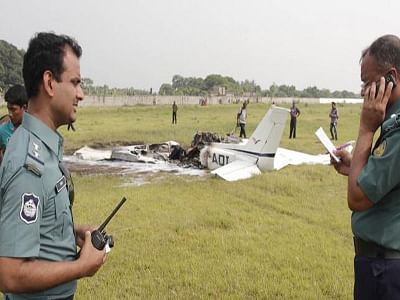 A female trainee pilot was killed and the trainer injured when a training aircraft crashed at Rajshahi airport on Wednesday.
The deceased is identified as Tamanna Rahman, 22.
The training aircraft of Bangladesh Flying Academy and Civil Aviation Limited caught fire just after take-off and crashed just 15 or 20 yards away from the runway at around 2:00pm, said senior sub-inspector of civil aviation Enamul Kabir.
Trainee pilot Tamanna died on the spot and trainer Lieutenant Colonel (retd) Sayeed Kamal was injured.
Fire fighters rushed to the spot after 20 minutes.
Sayeed Kamal was rushed to Rajshahi Medical College Hospital (RMCH) with severe burn injuries.