Gor-e-Shahid Baro Maidan in Dinajpur and Sholakia Eidgah in Kishoreganj hosted two of the largest Eid congregations in the country on Thursday.
While 600,000 devotees took part in the Eid-ul-Fitr jamaat at Gor-e-Shahid Baro Maidan, the number of devotees was 500,000 in Sholakia, claimed organizers, reports UNB.
In Dinajpur, the 5thEid-ul-Fitr congregation was at Gor-e-Shahid Baro Maidan at 8:45am with the participation of 600,000 devotees, said Jatiya Sangsad whip Iqbalur Rahim.
He said the jamaat was held smoothly as the weather was good and there was no rain unlike other parts of the country.
Justice M Enayetur Rahim, whip Iqbalur Rahim, Dinajpur Zilla Parishad chairman Azizul Imam Chowdhury, deputy commissioner Mahmudul Alam and police super Syed Abu Sayem, among others, took part in the jamaat.
Speaking on the occasion, Iqbalur Rahim, an organiser, thanked the devotees for their participation in the congregation and expressed gratitude to prime minister Sheikh Hasina for her cooperation to establish the Gor-e-Shahid Baro Maidan in the district.
In Kishoreganj,at least 500,000 devotees attended the 192ndEid-ul-Fitr jamaat at Sholakia defying rain.
Imam Maulana Farid Uddin Masud conducted the congregation held at 10:25am, 25 minutes behind the schedule, due to rain.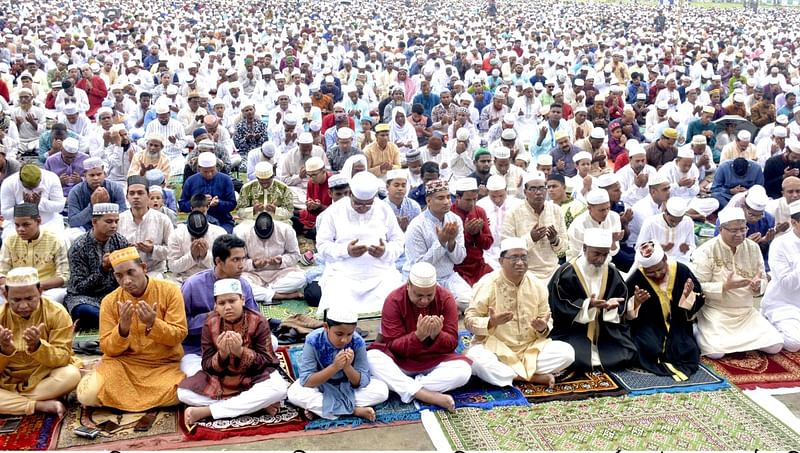 Many devotees offered the Eid prayers on nearby roads, open space and the river bank failing to get space in the main Eid ground.
Devotees from Mymensingh Netrakona, Rajshahi, Kushtia, Gazipur, Narsingdi, Brahmanbaria, Habiganj, Sunamganj, Sylhet, Jamalpur, Khagrachhari, Sherpur, Jashore, Khulna and Chattogram joined the Eid jamaat.
Deputy commissioner of the district Sarwar Murshed Chowdhury, police super Mashrukur Rahman Khaled, Kishoreganj municipality mayor Mahmud Parvez and upazila nirbahi officer Mahdi Hasan spoke before the Eid jammat.
Two special trains ran on the Bhairab-Kishoreganj-Bhairab and Mymensingh-Kishoreganj-Mymensingh routes to facilitate the travel of devotees.
Alongside regular law enforcers, members of Border Guard Bangladesh, Rapid Action Battalion, plainclothes police and intelligence agencies were deployed for security.