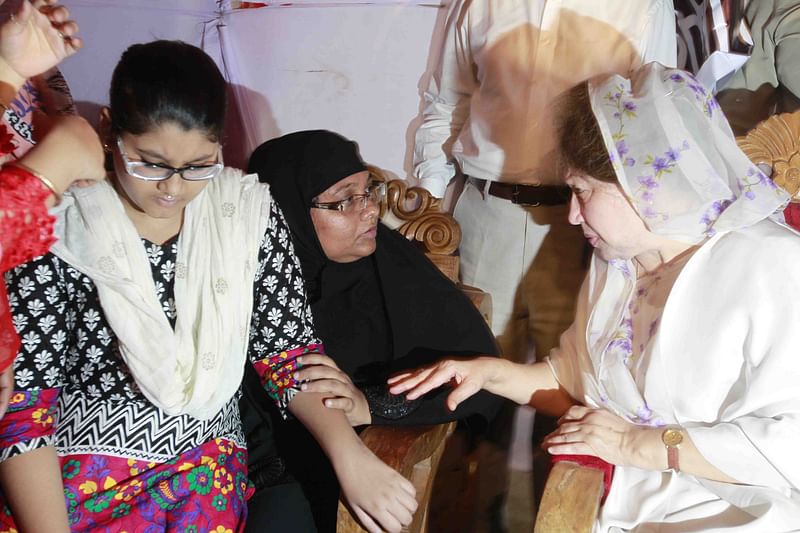 BNP chairperson Khaleda Zia on Tuesday reiterated her demand for disbandment of the Rapid Action Battalion (RAB).
Khaleda said, "This force (RAB) has no longer any necessity as they stood against people. People will remain in panic as long as this force will be there."
She expressed her wonder, as the sacked RAB officials have not yet been arrested despite the High Court order.
The BNP chief said the chief of the Rab-11, who is reportedly involved in the murders, considered himself as very powerful person as he is a son-in-law of a minister of Hasina's cabinet."
Khaleda demanded all the criminals and sacked officials involved in the seven murders be arrested soon and meted out exemplary punishment.
Khaleda made the demand while consoling the five family members of the seven murders at the house of slain Narayanganj panel mayor Nazrul Islam at West Mijmiji in Siddhirganj upazila
She also urged the government to quit right away shouldering the responsibility for all the incidents of forced disappearances and killings, including the Narayanganj seven murders.
The BNP chief said killings; abductions and forced disappearances will not stop as long as this regime is there in office. "So, this government must quit."
Earlier, the BNP chief started her journey from her Gulshan residence at about 11:15am and reached the Nazrul Islam at West Mijmiji in Siddhirganj upazila at about 12:15pm.
Khaleda talked to the bereaved family members of Nazrul and four other victims, Tajul, Liton, Swapan and Jahangir , at Nazrul's house, and consoled them.