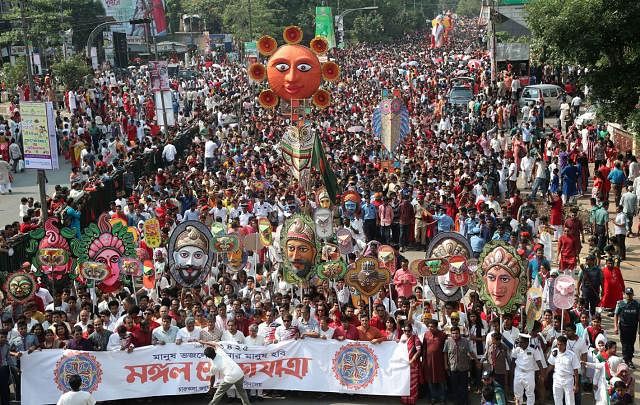 The Faculty of Fine Arts of Dhaka University on Saturday brought out the 'Mangal Shobhajatra' (a traditional parade) where tens of thousands of people from all walks of life joined to celebrate Pahela Baishakh, the first day of Bengali new year 1425.
The shobhajatra, led by DU vice chancellor Md Akhtaruzzaman, started from the fine arts faculty premises around 9:00am.
Cultural affairs minister Asaduzzaman Noor, along with teachers and students, also joined the rally.
Mangal Shobhajatra has become an integral part of the Bengali culture to celebrate Pahela Baishakh that upholds secularism, religious harmony and solidarity.
The Mangal Shobhajtara, also a UNESCO cultural heritage, this year featured replicas of sun, heron, fishes, elephant, birds, mother-son, Tepa Putul, buffalo, fishermen and other motifs made of wood, bamboo and papers.
DU fine arts faculty has been celebrating Pahela Baishakh for more than three decades.
The procession marched from Charukala premises and ended at Teacher-Students Centre (TSC) of the university via Shahbagh escorted by police and security forces.