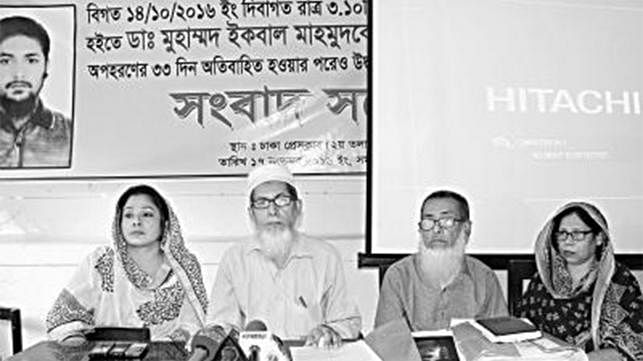 Three months after the abduction of physician Iqbal Mahmud, the police have admitted that the car seen at the site of the incident belongs to them. They admitted this in the papers submitted to court. The court has asked the police to submit the names of the patrol team members within two weeks.
CCTV footage shows a medical officer of the health directorate, Muhammed Iqbal Mahmud, alighted from a bus and was immediately picked up by seven or eight persons who whisked him away in a microbus.
A police vehicle was seen following the microbus. There has been no news of the doctor since then.
At a press conference held at the National Press Club, AKM Nurul Alam, father of the abducted medical officer, accused the law enforcement agencies of not cooperating. He said he had wanted to file a case with the Dhanmondi police station on that day, but the police were hesitant to take the case. They finally took it after midnight on the next day.
But the police station authorities of the nearby areas said none of their cars were on the spot at that time.
Muhammed Iqbal Mahmud was whisked away in a microbus by seven or eight people shortly after he got down from a bus at the Science Laboratory intersection around 3:10 pm on the night of 15 October.
"The law enforcement is avoiding us, creating a suspicion. There was a police van present at the spot where my son was picked up. Had anyone else picked up my son, the police would have taken immediate action," said Nurul Alam, addressing a press conference at the Dhaka Reporters' Unity in the capital.
Nurul Alam filed a writ with the High Court (HC) against the home ministry, the inspector general (IG) of police, the director general (DG) of the Rapid Action Battalion (RAB), the police commissioner of Dhaka, the deputy commissioner of the Criminal Investigation Department (CID), and the officer in-charge of RAB 2,3 and Dhanmondi model police station.
Prothom Alo conducted an investigation into the matter and talked to three police stations near the site of the kidnapping.
The officer-in-charge (OC) of Dhanmondi police station Abdul Latif said they have police patrol cars that have the name of the police station and the mobile phone number written on them. But the patrol car that was seen did not have all that written on it. The Kalabagan police station OC Yasir Arafat said he does not know anything about car, and New Market police station OC Atiqur Rahman said they hadn't sent a patrol car that night in Dhanmondi area.
The HC, however, was not satisfied with the performance of the law enforcers. "It is very unusual and unfortunate that someone has disappeared like this," the HC said. The law enforcers should have had more information about this case as three months have passed since the incident.