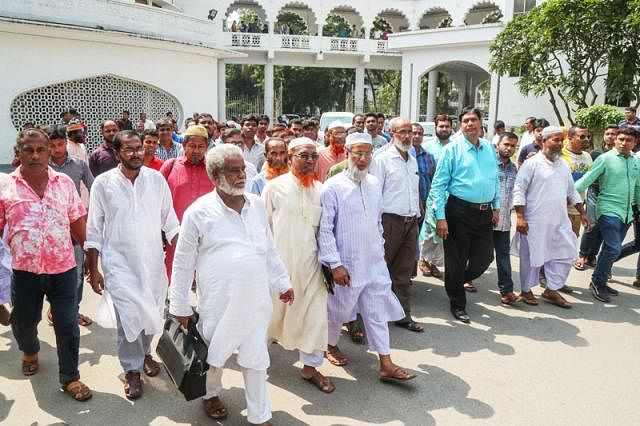 The police have implicated a certain Jahangir Hosain, who died nine months ago, in a fictitious case for an incident that allegedly took place recently. Jahangir died  on 25 May last year.
According to the case statement, the Jahangir Hosain torched a train compartment and damaged rail tracks along with his associates.
On 30 August, the police also sued another man Mojibul Elahi, who has been abroad for the past four years, for hurling crude bombs at policemen.  Mojibul is a resident of Mubarakpur village in Jhikargacha upazila of the district. 
Such accusations are nothing new. The police earlier implicated a certain Abdul Azizullah, a leader of the Bangladesh Nationalist Party (BNP) in Old Dhaka, who died in May 2016, for an incident that allegedly took place in September this year.
According to the statement of the fictitious case, Azizullah, along with other party men, threw two crude bombs at the policemen in front of Asgari Manzil, 200 yards away of the abandoned central jail gate in the city around 11:00am on 5 September.
In Jashore, the police have sued several hundreds of people more in 38 cases with 9 police stations.
Bangladesh Nationalist Party's 700 leaders and activists were sued and 200 of them have already been arrested in the cases.
According to the BNP leaders, the police have already filed 3,736 cases against 313,130 leaders and activists of the party across the country.
The case statements read all most same stories of the incident.
On Monday, a total of 18 teachers among 117 people of five cases out of 38 took anticipated bail from the High Court.
The teachers said they do not known about the incidents in which they were implicated.
Shameem Mia, a teacher of a madrasa student in Bagharpara upazila of the district, said he is not affiliated with any political party, but police sued him is sabotage case on 30 September.
Shahanur Rahman, a lawyer of the accused, told Prothom Alo that despite not having any specific charges, police are harassing people suing them for acts of sabotage.
Local people in Jashore said leaders of the opposition cannot stay at home due to fear of police raids.
Police, locals added, are conducting raids at every house to arrest the accused in the concocted cases.
Meanwhile, three pro-BNP lawyers Khandakar Mahbub, Nitai Roy and Sanaulla Mia have filed a writ with the High Court for forming an independent investigation body over the fictitious cases.
Following this, a High Court bench comprising justice Mainul Islam Chowdhury and justice Md Ashraful Kamal held a hearing on Monday.