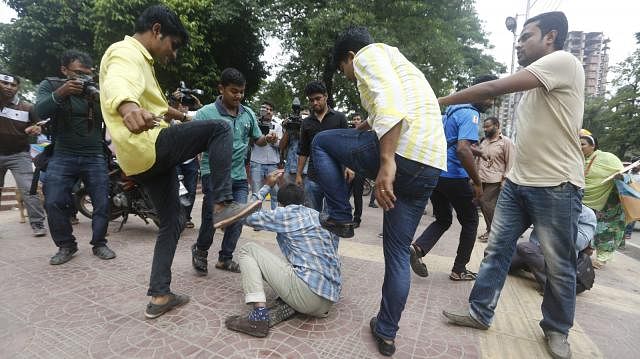 The leaders and activists of quota reform movement fear arrest and enforced disappearance in the face of repeated attacks by the ruling party's student cadres and following arrest of their leaders.
They are not also planning any fresh programme, rather the leaders of the movement say their main concern is about how to free the arrested leaders.
Students under the banner of 'Sadharon Chhatra Odhikar Songrokkhon Parishad' have been pressing for their demand for reforms in existing quota system in government jobs.
On the recent spate of attacks on them reportedly by Bangladesh Chhatra League men and arrest of several of its leaders, convenor of the the platform Hasan Al Mamun said to Prothom Alo, "We are scared of arrest and enforced disappearances. We have no doubt they will file cases against us. Future of those of us who led the movement is apparently bleak."
Mamun said the joint conveners of the movement, Faruk, Jasim and Mashiur were arrested on Tuesday. Another one named Mahfuz remains missing and joint convenor Nurul Haque, in ailing condition, is not seen publicly.
Nur was severely beaten by the BCL men and activists in front of central library of Dhaka University on 30 June.
Mamun alleged that the government forces have deactivated their Facebook accounts so that they could not forge any fresh movement.
Meanwhile, students and teachers of Rajshahi University on Tuesday demonstrated demanding the release of the arrested students, punishment of the attackers on students and reform in quota system.
However, the students could not launch any demonstration in the Dhaka University campus as the BCL men were heavily deployed there.
Leaders of the platform could not come to the campus fearing attack and arrest.
Eight leaders of the platform have been shown arrest so far in four cases.
BCL leaders on Monday handed over Faruk Hossain in Shahbagh police station after beating him severely. He was shown arrested on Tuesday.
Joshim Uddin and Toriqul Islam were shown arrested in cases filed in connection with attacks on the residence of DU vice chancellor and vandalising motor bike of a police man.
Joint convenor of the platform Rashed Khan was shown arrested under section 57 of ICT act on Sunday.
Deputy commissioner of Dhaka Metropolitan Police (DMP) Masudur Rahman confirmed that eight students had been arrested between Saturday and Tuesday.
A group of lawyers have decided to provide legal assistance to the 'harassed students'.
Lawyer Jyotirmoy Barua said, a group of 20 lawyers are ready to provide the students with legal assistance.
If the members of the family seek any legal help, they would readily extend their hand, he added.
The government has formed a seven-member committee led by the cabinet secretary to make recommendations about quota reforms. Formed on Monday night, the committee is likely to meet on 8 July for the first time.
Human chain protesting harassment of Fahmidul Haque
A group of teachers and students formed human chain in front of Aparajeyo Bangla on Wednesday protesting at the harassment of DU teacher Fahmidul Haque.
Fahmidul was attending a demonstration in front of National Press Club on Tuesday protesting at the attack on students demanding quota reforms  But some policemen harassed and threatened him to arrest.
Attending the human chain, Gitiara Nasreen, teacher of DU's Mass Communication and Journalism department, said, every citizen has the right to express his/her concern. "But those who are expressing their concern are being attacked or harassed," she added.
Teacher of Economics department Rushad Faridi said, "I am feeling mentally sick seeing all this incidents. University students are being beaten mercilessly and being taken on police remand for no reason. We want justice for all of these incidents."
Dhaka University's teacher of International Relations department Tanzimuddin Khan and Sociology department's Samina Luthfa also attended the human chain.