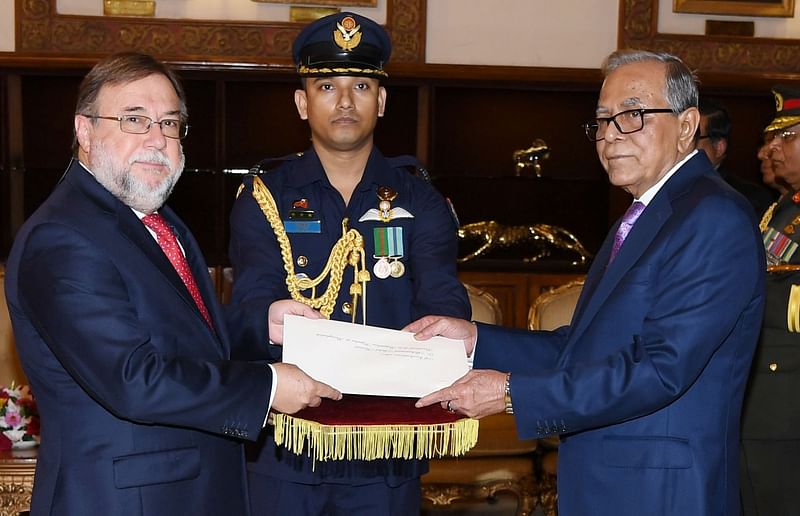 Six non-resident envoys to Bangladesh separately presented their credentials to president M Abdul Hamid at Bangabhaban this afternoon.
The envoys are: Gambia high commissioner Jainaba Jagne, and five ambassadors — Ariel Andrade Galindo of EI Salvador, Fatoumata Balde of Guinea Republic, Daniel Chuburu of Argentina, Julius Pranevicious of Lithuania and Muhamed Cengic of Bosnia & Herzegovina.
Welcoming the envoys, president Hamid said Bangladesh is keen on expansion of bilateral as well as multilateral relations in the field of trade, commerce and investment, principal information officer (PIO) Md Joynal Abedin told BSS.
Describing the existing relations with the six countries as excellent, the president hoped that Bangladesh's bilateral ties with the countries would reach a new height during their assignments here.
Terming Bangladesh a country of huge potentials, especially in tourism sector, Abdul Hamid put emphasis on availing all possibilities in the interest of their respective countries and Bangladesh to bolster businesses and trade ties.
The envoys sought the president's cooperation in discharging their duties in Bangladesh. Lauding the tremendous development in the country, especially in socio-economic sector, they assured that Bangladesh would be provided with necessary supports by their respective countries.
Secretaries concerned to the president and high officials of foreign ministry were present.
Earlier, on their arrival at Bangabhaban, a smartly turned-out contingent of the horse-mounted President Guard Regiment (PGR) gave the envoys guards of honour.