The Faraaz Hossain Courage Award this year went to Farida Yasmin, former upazila nirbahi officer of Barhatta, Netrakona. She prevented 59 child marriages so far and through her valiant efforts, determination and commitment, today Barhatta is completely free of child-marriage.
In a grand event organised at Radisson Blu Hotel in the capital city on Sunday evening, Farida Yasmin was handed over the Faraaz Hossain Courage Award and a plaque, along with a cheque equivalent to 10,000 US dollars from PepsiCo Global.
In memory of the brave spirit of Faraaz Hossain, who gave his life in a selfless act of humanity during the heinous militant attack on Holey Artisan Bakery in Gulshan, Dhaka, PepsiCo launched the annual Faraaz Hossain Courage Award from 2016, setting up a 200,000 US dollar fund for the purpose. Every year for 20 years individuals displaying exceptional courage will be awarded a prize equivalent to 10,000 US dollars in recognition of their empathy towards fellow human beings.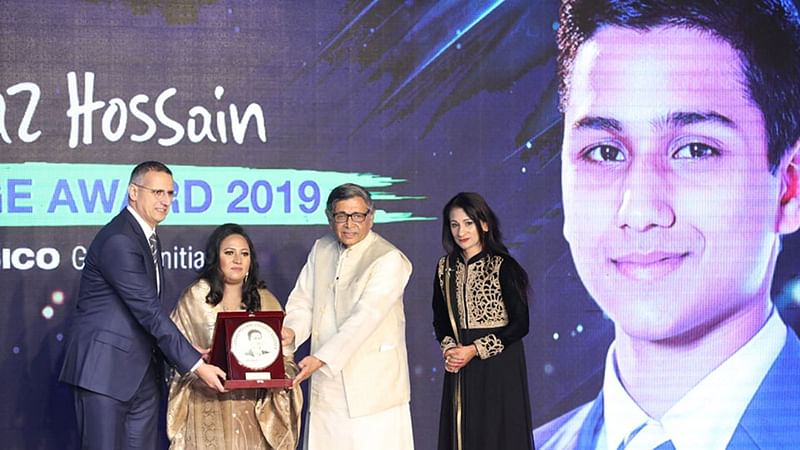 The event, conducted by Faraaz's elder brother Zarif Hossain, began with multi-faith recitations.
Zarif first thanked the government of Bangladesh for the verdict delivered four days ago in the Holey Artisan case in which no mercy was shown for the militants.
"Faraaz showed you are never too young to stand by what is right," said Zarif, calling upon the stage Simeen Hossain.
Faraaz's mother Simeen Hossain on behalf of her family including her father, chairman of Transcom Group Latifur Rahman, thanked PepsiCo for initiating the Faraaz Hossain Courage Award.
"I am deeply moved how all of you know him as a moral compass," she told those present at the event, adding, "Faraaz lives on in all of us."
"Faraaz is our dear brother," said Farida Yasmin, now additional magistrate in Mymensingh, thanking PepsiCo and the jury board for recognising her commitment and courage.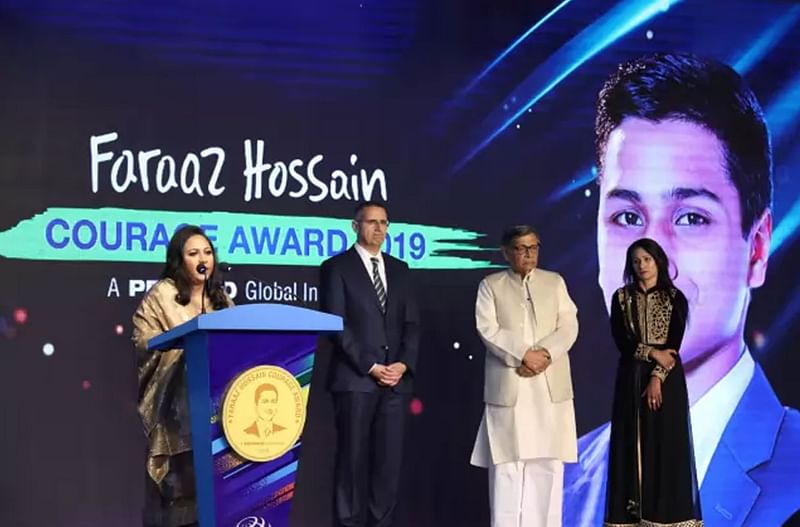 "My work is nothing compared to Faraaz's sacrifice. He is an inspiration," she said.
She thanked all the girls of Barhatta who stood up against child marriage, the people, the officials, the police, and people's representatives and the media who stood beside her with no personal gain in her fight for the girls' empowerment. She said the award was equal to the Nobel Prize for her.
After joining as UNO of Barhatta Union in 2017, Farida Yasmin took up the task of preventing child marriage. No matter what time of the day or night, she rushed forward whenever she heard such a marriage was about to take place. She has even helped to fund the education of several of these girls who could not afford an education.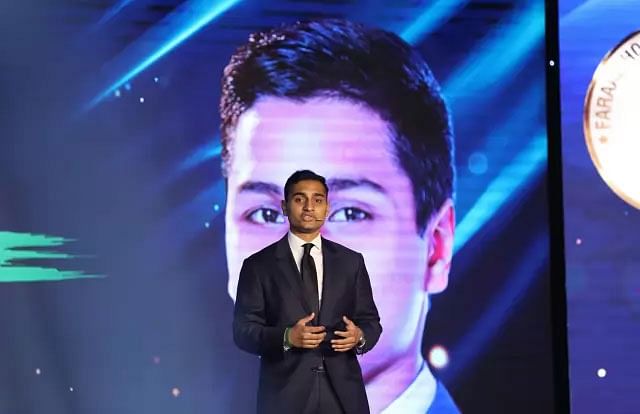 Speaking on the occasion, Ahmed El Sheikh, president of PepsiCo India, said the world is grateful for young people like Faraaz, who have courage over fear, love over terror.
Chairman of Bishwo Shahitto Kendro Abdullah Abu Sayeed, who led the jury board to select the winner of this year's award, said, "The courageous ones see no chasm in front of them as they move ahead. Faraaz was like that, ignoring danger to give his life for values, for humanity and for friendship." 
Short documentaries on Faraaz and also on this year's winner Farida Yasmin were screened at the event. The programme ended with a live rendition of the song 'Imagine'.