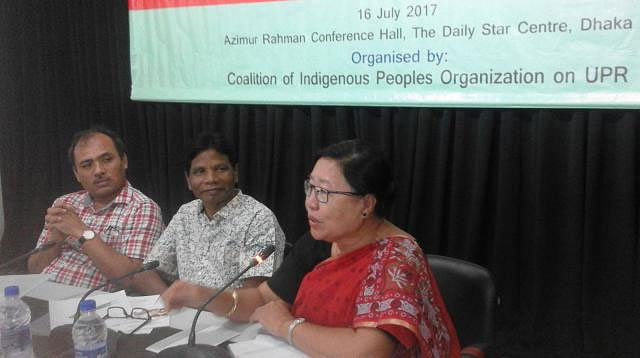 National Human Rights Commission (NHRC) member Banchita Chakma said the local administration had support for attacks on the indigenous community of Langadu upazila in Rangamati.
The office-in-charge of the local police station and others were present at the time of attacks, but they did not take any action.
The NHRC member made this allegation at a meeting on the rights of the indigenous people. Coalition of Indigenous Peoples Organisations on Universal Periodic Review (UPR) organised the meet at The Daily Star building on Sunday.
On 2 June, at least 200 houses of indigenous people in Langadu upazila were torched. This took place after police recovered the body of Nurul Islam Nayan, organising secretary of Sadar union unit Jubo League.
Citing her own experience, Banchita Chakma said, "I was the principal of Rangamati Government College in 2012. Police were deployed to ensure our security. Attacks on hill people were carried out in presence of the police. The attackers were never brought to trial."
She said the criminals repeatedly launch attacks on indigenous people as the perpetrators were spared after the crimes.
Bangladesh Indigenous Peoples' Forum (BIPF) general secretary Sanjeeb Drong said the government is tricking indigenous people with the Chittagong Hill Tracts Peace Accord.
The government should remember that too many tricks may invite trouble, he warned.
Jatiya Adivasi Parishad president Rabindranath Saren presided over the meeting in which Kapaeeng Foundation (KF) project coordinator Babul Chakma presented the keynote paper. Falguni Tripura moderated the event.