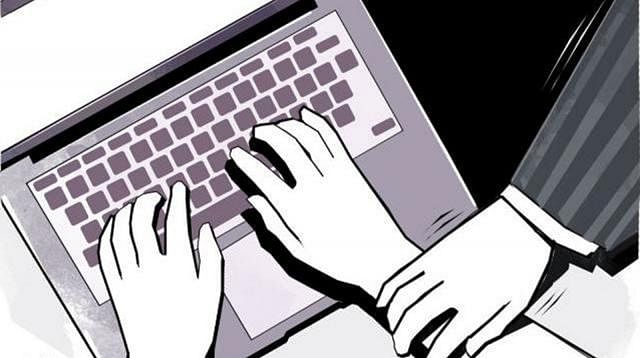 Under pressure from most quarters, including the media, the government repealed the controversial Section 57, but its provisions crop up in one way or the other in the proposed Digital Security Act.
Section 57 had included the issues of defamation, hurting religious sentiment, harming the image of the state and damaging communal harmony, all together. These are in four separate clauses in the new act.
The draft of the Digital Security Act was approved by the cabinet on Monday, at a meeting chaired by the prime minister Sheikh Hasina at the prime minister's office.
The draft act contains 63 sections including the issue of cyber crimes. According to the act, there will be an 11-member digital security council headed by the prime minister.
The ICT act was first drawn up in 2006 and was later amended in 2013 with further stringent measures. Innumerable persons, including journalists, were harassed under Section 57 of this law.
According to a Prothom Alo report last August, the police records showed that 42 cases were filed under the ICT act in January last year. In June this had increased to 79, adding up to a total of 391 cases in the six months. Most of the cases were filed under Section 57.
The Newspaper Owners Association of Bangladesh (NOAB), Bangladesh Sangbadpatra Parishad, Bangladesh Federal Union of Journalists, Dhaka Union of Journalists, human rights organisations as well as local and international agencies all demanded that this section be scrapped. The government also assured that it would be dropped.
Controversial Section 57 in new guise
The proposed Digital Security Act approved by the cabinet states that sections 54, 55, 56, 57 and 66 of the ICT act will be abolished immediately when this act comes into effect. Section 57 of the repealed ICT act states that "if any persons deliberately publishes or transmits or causes to be published or transmitted in the website or in any other electronic form any material which is false and obscene and if anyone sees, hears or reads it having regard to all relevant circumstances, its effect is such as to influence the reader to become dishonest or corrupt, or causes to deteriorate or creates possibility to deteriorate law and order, prejudice the image of the state or persons or causes to hurt or may hurt religious belief or instigate against any persons or organisation, then this activity will be regarded as an offence."
The maximum penalty for this crime is 14 years imprisonment and minimum seven years with a maximum fine of Tk 10 million. The crimes mentioned in Section 57 now appear in sections 25, 28, 29 and 31 of the proposed Digital Security Act.
Section 25 states that no one can intentionally use a website or any electronic form to publish or transmit material that is offensive or instigates fear. If any material is published or transmitted fully or partially in a distorted manner to tarnish the image of the state or spread confusion, this is a crime. This will entail a minimum three-year imprisonment sentence and/or a fine of Tk 300 thousand. Repetition of the crime will entail sterner sentence and fine. The crime under this section is bailable, however.
Section 28 states that hurting religious sentiment and values through electronic means is a crime, warranting a maximum seven-year prison sentence and/or a maximum fine of Tk 1 million. Repetition of the crime will entail maximum 10 years imprisonment and/or a maximum fine of Tk 2 million. This is a non-bailable crime.
Section 29 concerning defamation says that if any person commits a crime as detailed in Section 499 of the penal code regarding slander and libel, they will receive a maximum of three-year sentence and/or maximum Tk 500 thousand fine.
Section 31 of the draft states that instigating hatred against any class or community, damaging communal harmony or creating unrest in this regard, is considered a crime. This will entail a maximum prison sentence of seven years and/or a fine of Tk 500 thousand maximum. This will be non-bailable.
Speaking to Prothom Alo on Monday night, Supreme Court lawyer Jyotirmoy Barua said that Section 57 has simply been relocated in the proposed law. The problems and risks remain.  He feels that journalists and researchers will be harassed by this law.
Section 21 of the draft law states that, if any person publishes or transmits anything against the liberation war, the spirit of the liberation war or the father of the nation, this will be considered a crime. This will have a 14-year sentence and/or a fine of Tk 10 million.
Section 32 of the Digital Security Act states, a person will face up to 14 years' imprisonment and/or Tk 2.5 million fine on charges of spying by entering government, semi-government or autonomous body offices to gather information and uses computers, electronic devices and networks to record and transmit information secretly. Repetition of the crime will result in life imprisonment and/or Tk 10 million in fine.
Journalists see this as an obstruction to press freedom.
Cabinet secretary Mohammed Shafiul Alam faced a volley of questions at the press conference held on Monday to announce the cabinet's decision. The journalists said that they used the mobile phone to take pictures of documents from government officials, but this law may them put them at risk. The government officials would be reluctant to disclose information. The cabinet secretary responded to such questions, asking, "Did I mention journalists here?" The journalists pointed out that even in Section 57, journalists were not mentioned, but they were victimised by it. The cabinet secretary said that journalists were never targeted.
Former chief information officer professor Golam Rahman told Prothom Alo, "The definition of 'secret information' must be made clear. If not, there is scope of misusing the provision and of misunderstanding."
What the government says of Sec 57
The cabinet secretary, speaking at the press briefing, said that all the issues had been summarised together in Section 57. These have now been detailed. Punishment will be given as per the nature of the crime. He said, the cases under Section 57 will continue.
Speaking to journalists at an event on Monday, home minister Asaduzzaman Khan said, it can't actually be said that Section 57 has been scrapped as yet. This will be amended further and sent to parliament. When it is passed, then it will come into effect.
Former caretaker government advisor and human rights activist Sultana Kamal said about the draft act, that "there doesn't seem to be any fundamental changes. What was in one section before, is now spread in several sections. There is scope for this to be used against journalists and anyone." The risk of misusing the act remains. She said that the state has not taken any clear stand regarding freedom of speech.