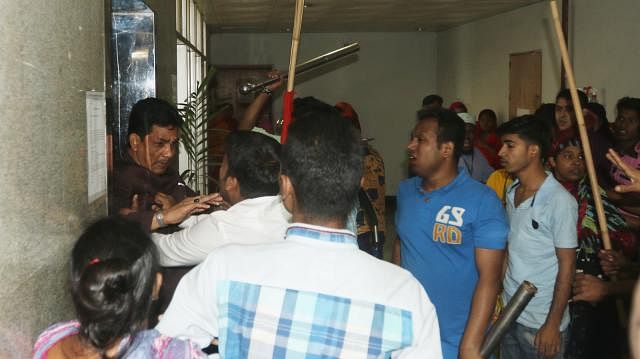 Three people were injured in a clash between workers of a factory and BGMEA staff in the capital's Karwanbazar area on Wednesday.
Police and witnesses said about 200 to 250 workers of Ashiana factory located in Rampura gathered in front of the BGMEA building in the morning demanding salary and arrears.
They blocked the entrance of the building, chanted slogans and vandalised belongings of the Bangladesh Garments Manufacture and Exporter Association (BGMEA).
The workers broke several machines and a car that they chased till the Karwan Bazar rail crossing.
BGMEA staff then chased the garment workers and a clash ensued.
A female worker and two others were injured in the clash.
BGMEA deputy secretary Md Abul Hossain claimed three BGMEA staff had sustained injuries in the attack.