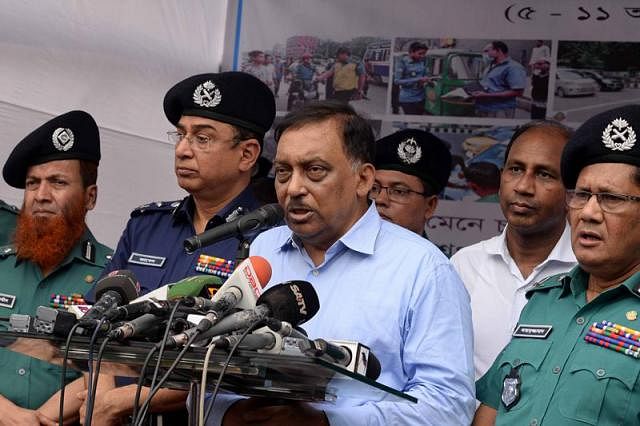 Home minister Asaduzzaman Khan Kamal on Sunday warned of tough punitive actions against instigators of student demonstrations and cautioned the protestors as well "not to cross the limit", reports UNB.
"Stern actions await those who are spreading propaganda to instigate (further) the (protesting) students," he said launching nationwide 'Traffic Week' at Dhaka's Zero Point to crackdown on reckless driving as part of government assurances to protestors to expose to justice the unruly drivers and regulate the traffic.
Kamal simultaneously sounded a note of warning pointing to the agitators saying "law enforcement agencies so far showed their patience but if they cross the limit they (police) would take actions against them (as well)".
"We have a limit of patience but it does not mean that we will tolerate anarchy. We will take action if that limit is exceeded," the minister said.
Kamal also urged all to cooperate police by providing information about perpetrators of rumour and instigators of violence again calling "entirely baseless" a Facebook propagation last night that four female students were abducted and taken to hostages and eyes of a boy were gouged out at Awami League's Dhanmondi office.
"A vested quarter has been involved to make the country unstable through instigating rumours and spreading false information among innocent students, the minister said.
Kamal said actress Kazi Nawshaba posted fabricated videos on facebook and instigated the students and an "apparently responsible" political leader asked his party men to go to Dhaka from Cumilla and get involved in students' protest. He said thousands of sets of school dresses were sold out and fake ID cards were produced in the last few days for the infiltrators who joined the protests to create anarchy.
Kamal also called on the students to return home and go to classrooms, adding "the Road Safety Act would be submitted in the cabinet meeting tomorrow" while the government accepted all of demands of the student protesters.
The minister urged all road users to abide by traffic on streets saying a tendency to defy the rules caused frequent road crashes and jam.
Inspector General of Police (IGP) Mohammad Javed Patwary and Dhaka Metropolitan Police (DMP) commissioner Asaduzzaman Mia were present.
Students have been staging countrywide demonstrations after the death of Dia Khanam Mim and Abdul Karim Rajib, two students of Shaheed Ramiz Uddin Cantonment College, in a road crash on Airport road in the capital on 29 July.