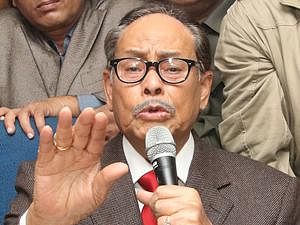 Jatiya Party chairman and leader of the opposition in parliament HM Ershad returned home from Singapore on Monday night after treatment, reports UNB.

The JaPa chairman reached Hazrat Shahjalal International Airport around 10:00am on a flight of Singapore Airlines, according to a party press release.

Jatiya Party senior cochairman Raushon Ershad, cochairman GM Quader and Ershad's two sons received him at the airport.

Senior party leaders Moshiur Rahman Ranga, Aminul Islam Mahmud, ABM Ruhul Amin Hawladar, Kazi Firoz Rashid, Ziauddin Ahmed Bablu and Mujibul Hoque Chunnu were, among others, present.
On 20 Jan last, Ershad went to Singapore for treatment as he was suffering from various health complications, including liver and knee problems.
On 10 December last, Ershad had gone to Singapore for receiving treatment and returned home on 26 December, just three days before the national election.
Jatiya Party which joined the election as the key partner of the grand alliance bagged 22 seats.