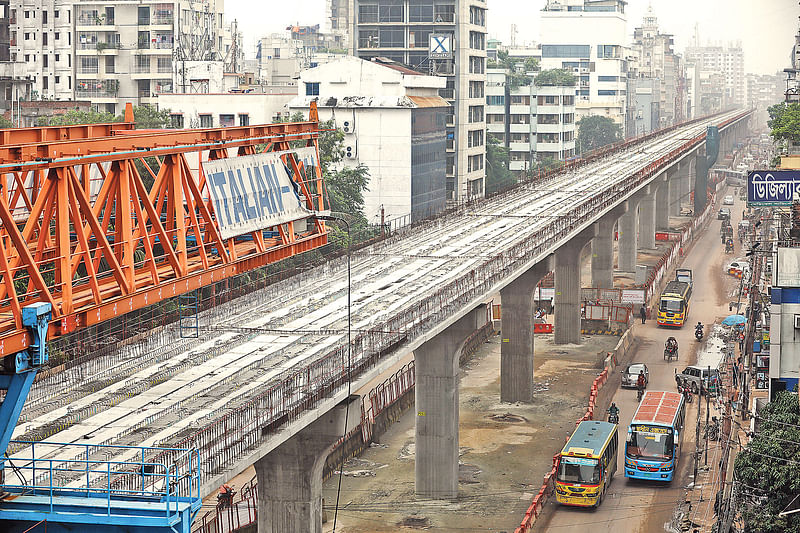 Four out of a total 20.1 km of Dhaka metro rail line is now visible, as the government plans to inaugurate the country's first-ever metro on the Golden Jubilee of Bangladesh's independence in December 2021.
Dhaka Mass Transit Company Limited (DMTCL), an autonomous body under the transport and bridges ministry, is executing the project.
The authorities said the metro rail trains will have the capacity to transport 22,000 passengers per hour, meaning 500,000 passengers day, from Uttara, a northern suburb of the capital, to Motijheel.
According to the DMTCL's progress report, nearly 24 per cent of the project's work has been completed since April this year.
It also said 93 per cent of metro rail's main deck between Agargaon and Uttara has been completed.
The rail link of the metro is 20.1 km and will have 16 stations.
The authorities said there will be sound proofing walls along the tracts.
Transport expert Shamsul Haque said the metro rail is a complex project. There is no way it can be completed it in hurry.
Traffic has been disrupted due to the project work, he added. The management of the project should be improved.
To bring a realistic solution to Dhaka city's traffic congestion, the Executive Committee of the National Economic Council (ECNEC) approved the Dhaka Metro mega project.
The project is divided into eight construction packages which will cost Tk 219.85 billion. Of them, Japan's aid agency JICA will provide 165 billion.
The metro rail will have 16 stations – at Uttara North, Central Uttara, Uttara South, Pallabi, Mirpur-11, Mirpur-10, Kazipara, Shewrapara, Agargaon, Bijoy Sharani, Farmgate, Karwan Bazar, Shahbag, Dhaka University, the secretariat, and Motijheel.
The metro will take 35 minutes to reach Motijheel from Uttara. The station will be high as a three-storey building and will be accessed by escalators and lifts.
Ticket counter and other facilities will be available at the second floor.
The authorities said 12 trains will run on the routes.