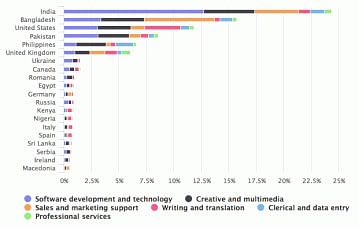 Bangladesh is the second most favourite country in supplying online labourers.
This is revealed in a study of the Oxford Internet Institute (OII), a multidisciplinary research and teaching department of the University of Oxford.
The result of the study, published in the Oxford Internet Institute web site, put India ahead of Bangladesh and the United States on the third position.
India as the largest overall supplier of online labourers shares 24.0 per cent of the total global online workers followed by Bangladesh with 16.0 per cent and the United States with 12.0 per cent.
Apart from the US, countries like Pakistan, the Philippines, the United Kingdom, Canada, Germany, Russia, Italy and Spain are lagging behind Bangladesh.
"The Internet has created a global market for digitally delivered freelance work, which is currently growing rapidly... the top occupational category in the United States is writing and translation, while in the Indian subcontinent it is software development and technology.
The map is based on near-real time data from four of the largest platforms connecting buyers and sellers of online freelance work," the article added.
The Online Labour Index worker supplement is collected from four of the largest online labour platforms, also known as online freelancing or online outsourcing platforms: Fiverr, Freelancer, Guru, and PeoplePerHour.
Written by Professor Vili Lehdonvirta, an associate professor and senior research fellow, the article was made based on Online Labour Index top occupation by country, 1-6 July 2017.
Different countries' workers focus on different occupations. The software development and technology category is dominated by workers from the Indian subcontinent, who command a 55 per cent market share. The professional services category, which consists of services such as accounting, legal services, and business consulting, is led by UK-based workers with a 22 percent market share.
Of the total percentage of online labour, Bangladesh is ahead of all the countries in sales and marketing support, with significant contribution in software development and technology, creative and multimedia and clerical and data entry.
Reiterating the government's commitment in taking the sector forward state minister for ICT division Zunaid Ahmed Palak said, the present government is continuing its work to attain the goal of Digital Bangladesh.
"We are developing skilled human resource by providing word class training. We will become a middle income country soon by turning Bangladesh into an ICT-based state," he added.