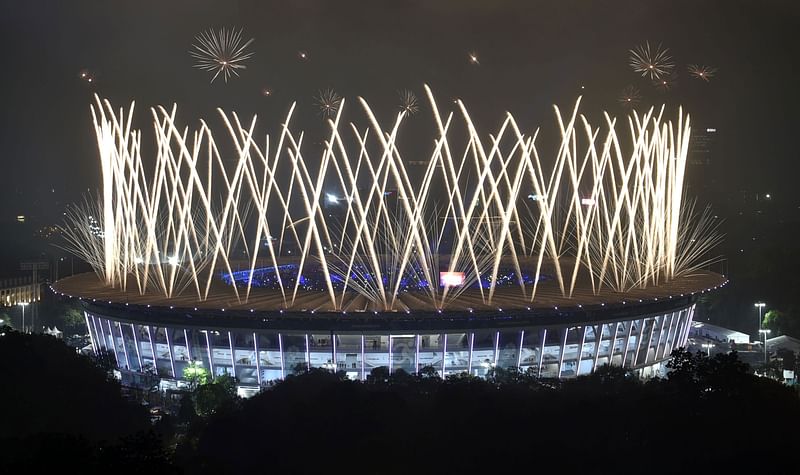 Indonesia bid an emotional farewell to the 18th Asian Games on a rain-soaked evening at the Gelora Bung Karno stadium on Sunday with the Olympic Council of Asia (OCA) President hailing the event as a "historical success".
The downpour did not dampen the spirits of the Indonesians who thronged the venue to witness the closing ceremony, which was also attended by International Olympic Committee (IOC) President Thomas Bach.
OCA President Sheikh Ahmad Al-Fahad Al-Ahmed Al-Sabah congratulated the hosts before declaring the Games closed.
"Thank you Jakarta. Thank you Palembang. You did it," Sheikh Ahmad said, making a heart-shaped gesture above his head with his hands. "The sky is crying because we are very sad today as we must leave your beautiful country.
"We are going back with a lot of memories, wonderful memories from an amazing Games. We will never forget you, you will always be in our hearts."
Like at the opening ceremony, a unified Korean team marched under a common flag, demonstrating the power of sports to forge camaraderie.
The organisers did not try to match the grandeur of the opening ceremony and handed over the baton to Hangzhou, China, which will host the next event in four years' time.
Alibaba founder Jack Ma and Olympic champion swimmer Sun Yang extended an invitation on behalf of the organisers of the next Asiad.
Buoyed by the success of hosting the Games, Indonesia on Saturday announced its intention to bid for the 2032 Olympics.
Tokyo will host the next Summer Olympics in 2020, with Paris holding the 2024 Games and Los Angeles confirmed as hosts in 2028.
Should Indonesia get the chance to host the Summer Olympics, it would become the fourth Asian country to do so, after Japan, China and South Korea.
"Asian cities have hosted many major international events. We are proud to say that Jakarta has the capability of hosting any such major international event," Sheikh Ahmad added.
"The 18th Asian Games in Jakarta and Palembang, the energy of Asia, has been a historical success."