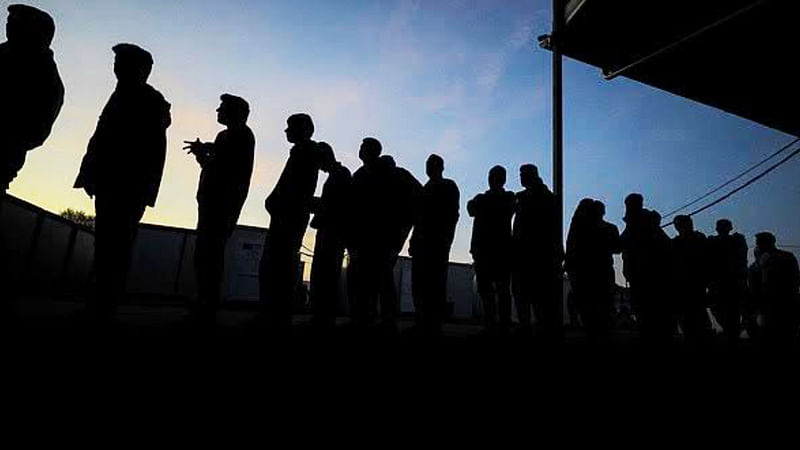 When they left the country for Algeria a few months back with dreams of changing their fate, they all were ecstatic. Now they feel trapped and are living in inhuman conditions in the North African country.
Sumon, Delwar, Mohsin, Helal and Alamgir, all hailing from Munshiganj, are some of those ill-fated Bangladeshis who sought help though video messages to arrange their safe return to the country as they fell prey to fraudulence by recruiting agencies, according to BRAC Migration Centre.
For the rescue of the tapped workers, Brac Migration Centre has appealed to the Wage Earners' Welfare Board BPDB following requests from the victims' families. The Board has sent a letter to the Bangladesh embassy in Algeria for taking necessary steps for their safe return, it said.

The relatives of the trapped workers said the youths were sent to Algeria with promises of highly-paid jobs, standard works and easy entrance to Spain.
Delwar Sheikh of Baniagao village in Munshiganj paid Tk 300,000 to Selim, owner of a recruiting agency, for going to Algeria nine months back but so far he received salary of two months and the amount is also poor, said Delwar's father while talking to the UNB correspondent at BRAC Migration Centre.
"We've been passing days amid financial hardship as the whole family depends on Delwar's income," he said.
Some of the victims' families alleged that after getting approval from the manpower employment and training bureau some recruiting agencies are cheating on the workers intending to go abroad.
Recently, nine Bangladeshis have returned home from Algeria while four remained stranded in Morocco on their way to Spain, and 42 are living in Algeria in injuman conditions.
Jasim Mia, who returned home recently from Algeria, said he along with 32 others went to Algeria on 19 February paying Tk 300,000 each to Singapore Training Centre in Shovochoni area of Tongibari in Munshiganj, and promised a job of Tk 50,000 salary per month.The agency assured them of sending them to Spain from Algeria.
They received only Tk 43,000 each after working in Algeria for six months. When they contacted, the agencies concerned demanded Tk 400,000 more to send them to Spain.
"We had no money to pay as we're extremely poor, and seven of us finally returend to Bangladesh on 28 September last," he said.
Mohammad Faruq, who also returned from Algeria, said Singapore Skill Training Centre and Bonnya Overseas Limited recruiting agency which has the clearance of Bureau of Manpower Employment and Training sent 56 youths to Algeria taking Tk 300,000 from each of them in February last.
Before leaving the country, the agency told them that they can go to Spain after a few days. After going to Algeria, they did not get any salary and were tortured for demanding salary, he alleged.
Another victim, Faruq, said he and eight others had no other option but to return home.
"We've returned empty-handed as we had to borrow money for purchasing tickets for saving our own lives," he said adding that now the recruiting agency is threatening them.
BRAC Migration Project chief Shariful Hasan said the families of seven trapped workers in Algeria sought help from them for their safe return. They have sent letter to the expatriates' welfare and overseas employment ministry and Wage Earners' Welfare Board on 9 October in this regard, he said adding that the Board has also sent a letter to Bangladesh embassy in Algeria.
"It's a matter of grave concern. I hope the government will take necessary measures in this regard. Such fraudulence must be prevented. Otherwise, many others might fall in the same trap," Shariful Hasan said.
Director of manpower employment and training bureau DM Atique told UNB that they are not aware of such allegations and legal action will be taken when formal complaints will be lodged.
"Bangladeshis go to Algeria with legal visa but I don't know the the specific figure," he added.