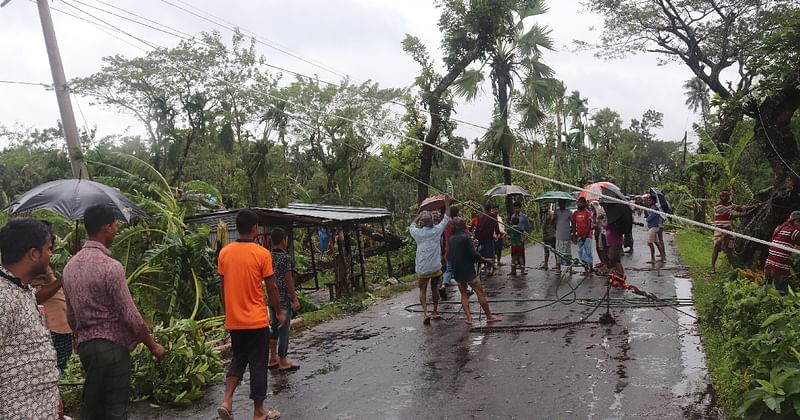 On the fateful night when cyclone Bulbul hit the coast, six people were at home, including Nilufar Begum, her husband and son. The cyclone took away everything that was in their home, even the pots and pans.
Although they survived, for Nilufar, there is nothing left except for her family and the homestead. Now she and her family are passing days under the sky after cyclone turned their lives upside down at Char Mangal village in Charkolmi union of Char Fasson upazila.
Unable to hold back her tears, Nilufar lamented that she cannot rebuild her home without government help as her two sons can barely make ends meet as fishermen.
But Nilufar is not the only one who needs urgent help.
Kawsar Ahmed, chairman of Charkolmi, said almost 37 houses in the union were completely destroyed and nearly 40 families had been partially affected. He urged the government to quickly rebuild the houses.
When cyclone Bulbul hit, over a hundred mud and tin-shade houses in several villages in Char Fasson and Lalmohon upazilas in the coastal district of Bhola were destroyed. The affected families received rice and dry food from the administration but they will not be able to rebuild their lives without rehabilitation.
The administration is yet to give a complete picture of the damage but promised to distribute corrugated sheets and cash among the affected families.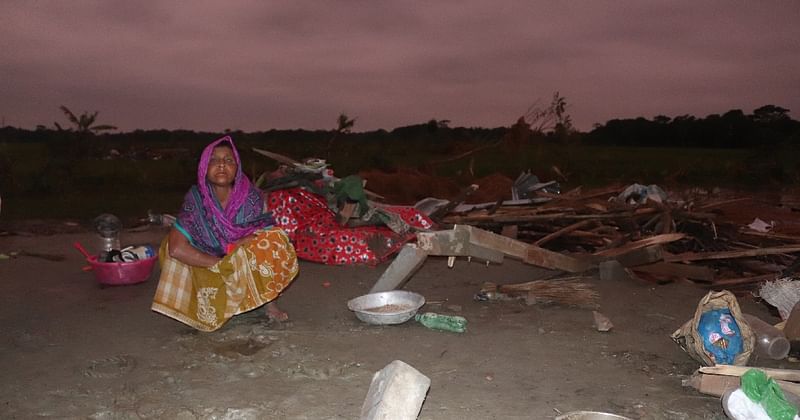 Locals said almost 30 houses in Bottola village of Gojaria Bazar were damaged within 30 to 50 seconds when the cyclone struck after 9:30pm. Of them, 17 were completely wrecked. At the same time, 10 houses at Peyarimohon village in Lalmohon upazila were destroyed.
At least 15 people were injured after being trapped underneath the collapsed houses.
Giasuddin Ahmed, chairman of Lalmohon upazila and Habibul Hasan Rumi, upazila nirbahi officer, said food aid was being distributed among the affected families and they will get financial assistance, too.
Almost 100 houses in six unions of Char Fasson upazila were destroyed. Bhola deputy commissioner Masud Alam Siddique said 65 damaged houses have been initially identified.
Electric poles were uprooted at various places, leaving hundreds without power in Lalmohon and Char Fasson.
Various crops, including vegetables and Amon rice, were also damaged. According to the agriculture department, Aman rice was sown on 179,280 hectares in Bhola. Of them, 53, 783 hectares have been affected by the cyclone.
Binoy Krishna Debnath, deputy director of agricultural extension department said they are giving advice to farmers on how to remove water from fields.
"There's nothing to fear as the incentive programmes for farmers will cover their losses," he said.