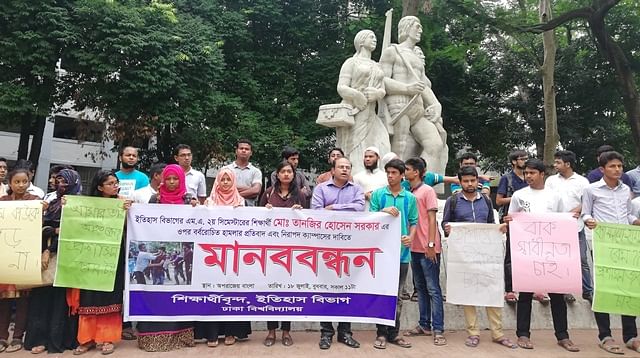 Students and teachers of History department of Dhaka University on Wednesday formed a human chain at the foot of Aparajeyo Bangla on the campus protesting the assault on a student of the department.
They also demanded security of the students on the campus and exemplary punishment of the attackers, reports UNB.
Tanjir Hossain Sarker, a master's student of the department, was among teachers and students who were allegedly assaulted by the Bangladesh Chhatra League (BCL) men recently while protesting the arrest of quota reform activists.
Chhatra League is the student wing of ruling Bangladesh Awami League (AL).
Condemning the assault as well as the passive role played by the university authorities, Mehedi Hasan, a student of the department said, "It is the responsibility of the university authority to ensure the security of its students. But, they failed to do so."
"Now, people in the country are being attacked for demanding their rights. When people stand to protest the attack carried out on them, they too become victims."
"If democracy is there in the country why people cannot stand for their rights?" he added.
While speaking at the human chain, professor Mohammad Abul Kawser of the department urged the government to take necessary steps to consider the logical demand of the students.