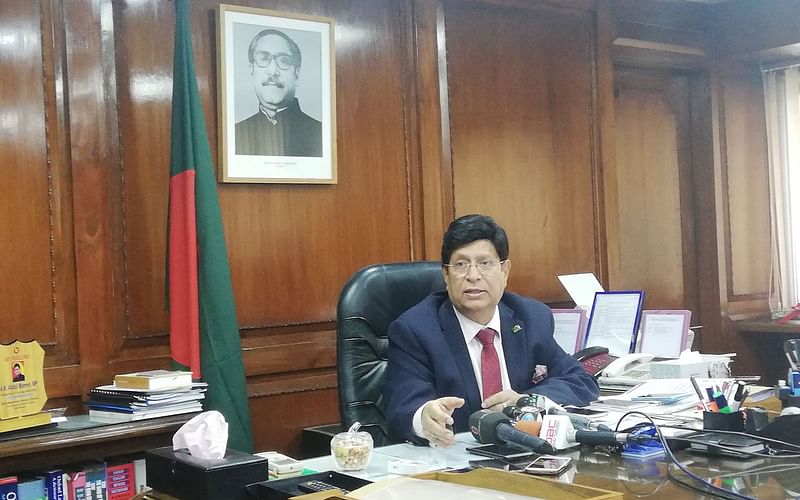 Foreign minister AK Abdul Momen on Wednesday ruled out any repression on minorities in Bangladesh saying any deviation from India's historic position as a tolerant and secular nation might weaken India, reports UNB.

"In our country, religious harmony is at a very high level. No one from other religions is oppressed here. We've respect for all religions. We see those (minorities) in equal eyes and as the citizens of Bangladesh," he said.

The foreign minister was talking to reporters after his meeting with US ambassador to Bangladesh Earl R Miller and Japanese ambassador Naoki Ito at the foreign affairs ministry. 

He said many Bangladeshis are returning to their homes as the country is marching towards development highway.

India's Lok Sabha on Monday midnight passed the Citizenship Amendment Bill (CAB), 2019, with 311 votes for and 80 against. After a smooth passage in Lok Sabha, the Bill was cleared by Rajya Sabha.

Indian home minister Amit Shah insisted that the only intention of bringing the bill was to provide refuge to the "persecuted minorities" of Bangladesh, Afghanistan and Pakistan, according to reports carried by Indian media.

Asked about US comment on the issue, Momen said the US envoy also expressed his country's concern about the Indian bill as they believe in freedom of religion. "They (US) are being critical about that. They believe that India weakened its position by doing it (passing the bill)."

The foreign minister said the government in Bangladesh does not judge anybody based on his or her religion but sees as citizen of Bangladesh.

"It's not true that minorities are being tortured here. Whoever gave them the information, it's not correct," he said adding that relations between Bangladesh and India are going through a golden chapter now.

Momen said Bangladesh ensures that followers of all faiths enjoy same rights in every area, including the job sector.

"Many important decisions of our country are taken by persons belonging to different religions. We never judge anybody by their religion, we treat all as Bangladesh citizens," he said.

Describing the Citizenship (Amendment) Bill as a "dangerous turn in the wrong direction", a federal US commission on international religious freedom has sought American sanctions against home minister Amit Shah and other principal Indian leadership if the bill with the "religious criterion" is passed by both houses of Parliament, reports NDTV.