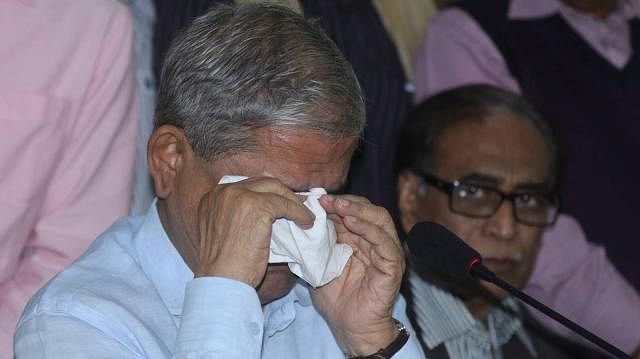 Bangladesh Nationalist Party (BNP) secretary general Mirza Fakhrul Islam Alamgir on Monday broke down during a press conference on Monday.
The soft-spoken politician burst into tears as the main opposition party is going to contest the general elections for the first time in absence of the BNP chairperson Khaleda Zia.
"This is for the first time, we are contesting the polls without our chairperson," Mirza Fakhrul told the press conference at the BNP chairperson's Gulshan office.
Khaleda Zia has been kept in jail since she was sentenced to five years' imprisonment in Zia Orphanage Trust graft case on 8 February 2018.
The BNP has all along claimed that the case was a politically motivated one.
Several leaders present at the BNP chairperson's Gulshan office turned emotional when Mirza Fakhrul broke into tears and ran out of words for at least two minutes.
Mirza Fakhrul, who has been running the party in absence of both Khaleda Zia and acting chairman Tarique Rahman, made announcement of distributing letters to party nominees. The first ticket has been handed over to BNP's joint secretary general Mujibur Rahman Sarowar.
Fakhrul, in his speech during the press conference, clarified why the BNP decided to participate in the polls.
The BNP is contesting the election as part of movement, although there is no sign of holding a fair election, Mirza Fakhrul said.
Khaleda Zia takes the charge of the BNP in 1982 after the death of her husband and former president Ziaur Rahman.
Khaleda Zia was one of the key leaders who led the movement to unseat HM Ershad from office and restore democracy.
The BNP contested the polls in 1991, 1996, 2001 and 2008 under the leadership of Khaleda Zia and was elected prime minister of Bangladesh thrice. She was defeated in the election of 2008.