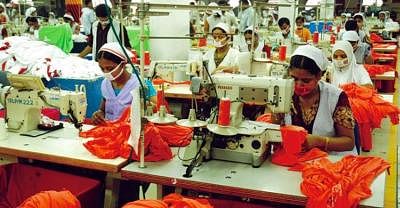 Readymade garment (RMG) workers on Monday staged a sit-in demanding a minimum wage of Tk 16,000 while the wage board committee's first meeting to fix a new wage structure was being held.
The RMG workers and labour union leaders staged the demonstration outside the Minimum Wage Board (MWB) office in the capital to press home their demand.
While the meeting was going on, labour leaders Mahbubur Rahman Ismail, Mushrefa Mishu and Taslima Akhter handed over a memorandum to MWB chairman Aminul Islam to this end.
Later, another platform of RMG workers, Garments Karmachari Oikkya Parishad, handed over a separate memorandum to the MWB chairman demanding a minimum wage of Tk 18,000.
BGMEA president Siddiqur Rahman, Jatiya Sramik League women's affairs secretary Shamsunnahar Bhuiyan, permanent representative of the labourers Fazlul Haque Montu, permanent representative of the owners Kazi Saifuddin, MWB secretary Md Shahidullah and independent member Kamal Uddin attended the meeting.
The government on 14 January formed a four-member committee, led by senior district judge Syed Aminul Islam, to revise the existing salary structure for the RMG workers.
A new salary structure will be fixed within December as per the committee's recommendation.
At present, the minimum wage for the RMG workers is Tk 5,300.