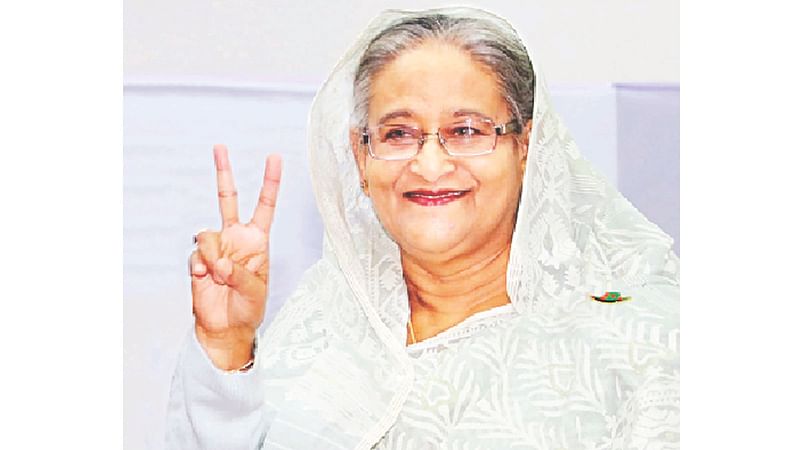 Ruling Bangladesh Awami League (AL) makes a record victory in Sunday's elections plagued by allegations of massive vote rigging and death of 20 people.
As per the official results, which were announced by the election commission (EC) early Monday, the Awami League-led ruling alliance Mahajote (Grand Alliance) bagged 288 seats while the prime opposition Bangladesh Nationalist Party-led Jatiya Oikya Front secured only seven.
The EC stayed the results of Brahmanbaria-2 constituency. It earlier suspended the elections process at the Gaibandha following death of a contestant.
Awami League alone got 259 seats while Jatiya Party 20 after the widely expected results.
Independent candidates secured three seats while Workers Party got three, Jatiya Samajtantrik Dal (JaSaD), Bikalpa Dhara, and Gana Forum got two each and Tarikat Federation and JP got one each.
The massive victory would give prime minister Sheikh Hasina a third straight term in the office.
The opposition coalition of Jatiya Oikya Front has already rejected the results of the parliamentary elections and called for fresh polls under a neutral caretaker government.
"We demand fresh elections to be supervised by a neutral caretaker government," said the Front leader, Kamal Hossain, at a press conference following the elections, which he said was plagued by ballot stuffing overnight, forcing out opposition polling agents, and killing of early 17 people.
In an instant reaction to journalists on Sunday, Bangladesh Nationalist Party secretary general Mirza Fakhrul Islam Alamgir termed the national election as a 'cruel mockery' with the nation.
"Today's (Sunday's) election is a cruel mockery with the nation. This type of election is very dangerous for the nation. The future of the nation faces a great loss through the election," he said.
Yet, the election observers of India, Nepal, South Asian Association for Regional Cooperation (SAARC) and Organisation for Islamic Cooperation (OIC) had expressed their satisfaction over the election process of 11th parliamentary polls in Bangladesh.
The elections were peaceful and organised, said the election observers after visiting several polling centres on Sunday.