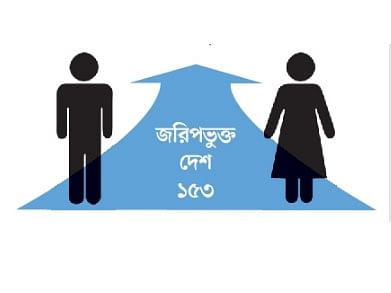 The Global Gender Gap report benchmarks gender parity in four dimensions. Of these, Bangladesh has fallen back considerably in three dimensions, meaning that gender disparity has increased in the country. However, the increased political empowerment score has pushed Bangladesh's overall ranking up in the index.
This was revealed in a comparative analysis of the World Economic Forum (WEF) Global Gender Gap report of 2020 and 2006. All countries have gender disparity in four main indicators – women's economic participation and opportunity, educational attainment, health and survival, and political empowerment. Other than in political empowerment, Bangladesh's score has dropped in these indicators compared to 2006. So even though Bangladesh has made considerable advancement in certain areas, the overall gender gap is widening.
Bangladesh has attained 50th position among 153 countries in the index. In 2006 it ranked 91.
Executive director of CAMPE (Campaign for Popular Education) Rasheda K Choudhury, speaking to Prothom Alo, said, "There is no reason to think that gender disparity has lessened in the country just by seeing this ranking. On the contrary, it has become worse. A careful look will reveal that women's economic participation faces increased challenges. Discrimination in colleges and universities is increasing. Even in the health sector, women are neglected."
She went on to say, other than the head of government being a woman, there has not been much advancement in women's empowerment. Women's empowerment is still not reflected in political participation or in leadership and decision making in parliament or in the party.
There are 14 sub-indexes under the four main dimensions of the report and Bangladesh has topped the list in four of these. These are enrollment of girls and boys in school, equality between girls and boys at the secondary level, quantitative equality between girls and boys at the time of birth and the number of times a woman has been head of the government. In South Asia, Bangladesh has attained top rank in gender equality.
Falling behind
Bangladesh has fallen considerably behind in three indicators – women's economic participation and opportunity, participation in education and health and survival. Over the past 14 years, the gender gap has increased in these three sectors.
Bangladesh ranks 141 in the women's economic empowerment and opportunity index. In 2006 its position was 107. Among the five sub-indexes under this index, gender disparity has increased in Bangladesh. It ranks 98th in wage parity. It falls below 130 in the index for senior official, managerial, professional and technical positions.
Bangladesh stands at No 1 in the world for female participation in primary and secondary school enrollment. But it comes nearly to the bottom of the gender parity index at the college and university level.
Ahead in political empowerment
Bangladesh ranks at 7 in gender parity in political empowerment. Bangladesh has the record of the longest time of women being at the helm of government, over the past 50 years. However, Bangladesh stands at 86th position regarding women's participation in parliament and 124th regarding women in minister positions.
This state of women's participation is reflected in the ongoing city corporation elections. Only 6 women have been given party nomination in the 129 general wards of the two city corporation. Of them, two are of Awami League and 4 of BNP. There are no women mayoral candidates.
There are a total of 18 women, including those with party nomination, contesting as ward councilors in this election. In 2015 this was 23. The number of women candidates has decreased despite the number of wards increasing.
Speaking about women's waning interest in politics, country director of Action Aid, Farah Kabir, told Prothom Alo that it is a big challenge for women to enter politics. Even after tackling that challenge, there is little scope for women in decision-making and their views are hardly taken into consideration. Security and the environment are obstacles. There is also a lack of commitment concerning women's empowerment.
* This report appeared in the print version of Prothom Alo and has been rewritten in English by Ayesha Kabir