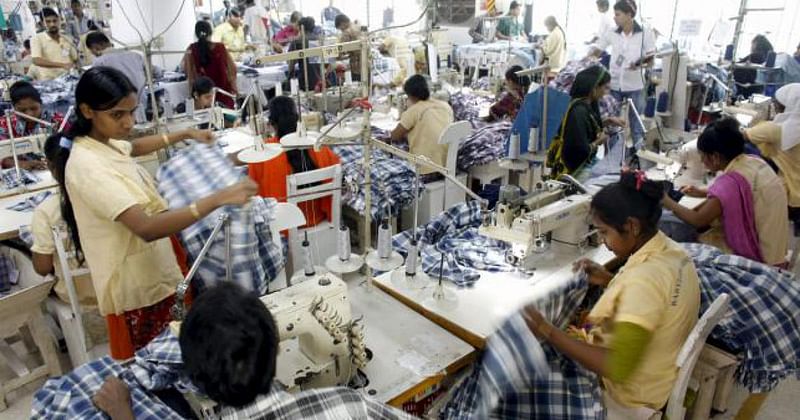 Bangladesh lost its apparel export market share in US markets to close competitors last year, data released by the US government shows. 
Stakeholders say the country is facing this problem due to losing price competitiveness and lack of product diversification reports Daily Industry, an online newsportal.
According to the US Department of Commerce's Office of Textiles and Apparel (Otexa) data, Bangladesh's export earnings from US saw a 4.46 per cent fall to $5.07 billion in 2017, which was $5.30 billion a year ago.
Bangladesh's market share in US apparel market came down to 6.31 per cent from 6.58 per cent. Vietnam, one of the closest competitors of Bangladesh, registered over 7 per cent growth in the US apparel market, followed by Mexico at 5.33 per cent, India at 1.19 per cent and Pakistan at 1 per cent in the same period.
China, the largest exporter of apparel products, also saw a decline in export earnings as well as market share in the US.
According to Otexa, China's export to US saw a 3.17 per cent fall, while market share came down to 33.67 per cent in 2017 from 34.69 per cent in the previous year.
The total export from Bangladesh to the US was $5.27 billion in 2017, down by 3.98 per cent from 2016. Of this, only $204 million was from non-apparel products.
"Right now, price competitiveness is a big challenge for Bangladesh in the global markets. The production cost has gone up due to safety improvement spending as well as wage hike. The advantage of cheap labour is over," Daily Industry quoted Exporters Association of Bangladesh (EAB) president Abdus Salam Murshedy saying.
"Meanwhile our competitors have gained competitiveness due to government policy support and incentives," said Salam.
"The fall in Bangladesh's earnings from apparel exports to the US is bigger than the total drop in US apparel and textile imports," said Centre for Policy Dialogue (CPD) research director Khondaker Golam Moazzem.
According to Otexa data, US import of apparel products has seen a 0.49 per cent fall to $80.28 billion in 2017, which was $80.68 billion a year ago. American buyers have stopped placing work orders to factories in shared buildings, which is another reason behind the fall.
"But there is hope in the coming year as Bangladesh has made significant progress in workplace safety," said Moazzem.
Since the economic slowdown in the US still impacting the demand of clothing products, the buyers have cut prices of products, he added.
How to regain market share in the US
As buyers keep relocating their businesses from China to more competitive countries, Bangladesh needs to focus more on attracting these buyers and on new foreign investment. Product diversification is a must to retain consumers.
As per the data, Vietnam is the major beneficiary of China's shift in terms of work orders and investment as it has diversified products and has better infrastructure, said Moazzem.
The government and manufacturers have to concentrate on creating a congenial business and investment atmosphere to do the same.
To remain price competitive in the global market, the government should focus on increasing its support to increase the industry's capacity, said Salam, the managing director of Envoy Textile.
"Automation is a key to reduce production cost but it needs more reinvestment," he said.