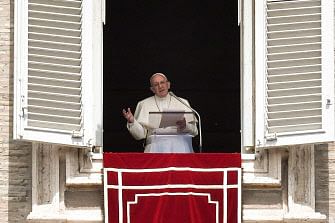 Pope Francis on Sunday praised North and South Korean leaders for their "brave commitment" to peace after they agreed to work towards the denuclearisation of the Korean peninsula.
The pontiff hailed the "positive outcome" of their historic summit in Seoul on Friday, when Kim Jong Un promised to close North Korea's atomic test site next month and invite US weapons experts to the country, according to Seoul.
Francis said Kim and his southern counterpart Moon Jae-in had shown a "brave commitment... to follow a sincere path to peace towards a Korean peninsula free of nuclear weapons."
The pontiff, speaking during the Regina Coeli prayers at St Peter's Square, said he prayed for the "cooperation to continue, bearing fruit that will benefit the beloved Korean people and the entire world."