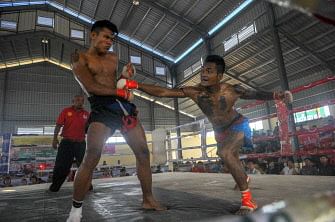 A boxing-fan tycoon, a venerated monk and the army lured some of Myanmar's top fighters to Rakhine state this week in an attempt to show normality is returning after a military crackdown drove 700,000 Rohingya into exile.
The deep cuts and brutal knockouts of 'Lethwei' -- Myanmar's bare-knuckle traditional boxing -- made a debut in Maungdaw, a town with a history of violence against Rohingya Muslims.
For seven long months, Maungdaw in northern Rakhine has been under curfew as the military systematically forced Rohingya Muslims over the border into Bangladesh.
Ethnic Rakhine stand accused of colluding with the security forces in mass killings, widespread rape and the burning down of Rohingya villages -- actions the UN has labelled as ethnic cleansing.
Myanmar vehemently rebuts the allegation, saying it was forced to act to fight off Rohingya militants who launched raids on police posts on August 25 last year.
Authorities -- aided by rich businessmen -- have piled in with redevelopment cash and say the refugees are welcome back, insisting that the communal scars are healing.
Yet only 556 Rohingya have been 'verified' for repatriation so far -- and none have returned.
Soe Tun Shein, a tycoon known for his love of Lethwei and his anti-Muslim views, stumped up the cash behind the Lethwei event -- the first ever in Maungdaw -- which organisers confirmed was given the green light by Senior General Min Aung Hlaing, who heads Myanmar's army.
"The army chief is supporting this and instructed his officers here to make sure the competition was a success," Myanmar Lethwei Federation Chairman Thein Aung, 71, told AFP.
"I believe that (Lethwei) encourages people to love the country and to develop our traditional arts," he added.
But critics decried the event as a PR move by authorities desperate to gloss over crimes against the Rohingya.
"It is another squalid stunt in a series of propaganda shows crudely fashioned to delude the people of Myanmar and the world," said Yangon-based independent analyst David Mathieson.
"It is military soft power that will not assuage the fears of people left in northern Rakhine."
While the focus has been on their enmity with the Rohingya, many Rakhine are also deeply distrustful of the central government and military, long-dominated by the ethnic 'Bamar'.
Rakhine nationalist sentiment boiled over in the nearby ancient temple city of Mrauk U in January, sparking riots that ended with police shooting dead seven protesters.
The incident made the task of winning back the hearts and minds of ethnic Rakhine all the more pressing to authorities.
Some of the top names in Lethwei travelled to Rakhine to take part in the bout, held in a new stadium -- and were even treated to a sightseeing trip to the Bangladesh border.
"I agreed to fight because I did not know about the problems here and I have never been here before," says 28-year-old fighter Saw Ba Oo from eastern Karen State, who drew against his opponent in the climactic finale and took home $2,600 in prize money.
But tension and insecurity pervaded the atmosphere, even finding their way into the boxing ring.
Local Buddhist monk Manisara, a community leader who hosted the visiting boxers at his monastery and served as announcer for the fights, heaped praise on the military for defending his flock.
"When we are in trouble, the Tatmadaw (armed forces) are the only ones we can rely on," he says. "Without them, we live in danger."
The Lethwei tournament did offer what some might see as a flicker of hope for the divided town.
A handful of Rohingya children cheered alongside ethnic Rakhine youngsters with whom they play football on the adjacent sports field most evenings.
The communities, who live side-by-side across the small town, are forced out of necessity to have some level of interaction on a daily basis even if, for now, their relationship is riven by suspicion and fear.
"We used to visit each other's houses," said Lethwei fan Myo Thandar Aye, 25.
"But we can never go back to the relationship we had before. We don't trust each other."