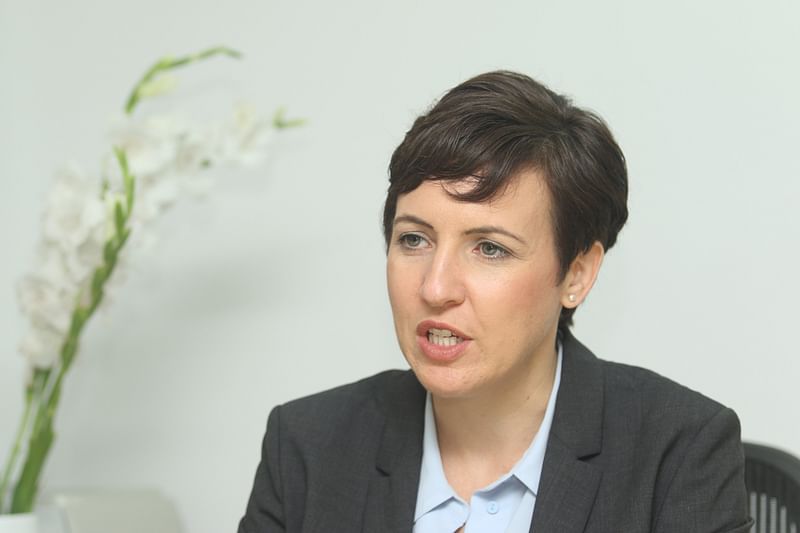 Impressed by the start-up ecosystem now gaining momentum and growth of ecommerce in Bangladesh, the IFC's country manager Wendy Jo Werner emphasises the need for addressing challenges of efficiency and productivity, and the transportation crisis in Dhaka,.
Her mantra for improving productivity is to ensure better skills of workers, especially instilling knowledge in diversifying exports or even in sectors like agriculture and bringing in newer technologies.
As costs of doing business are still considered high in Bangladesh, Wendy Werner insists on reforms in the 'embedded bureaucratic system' in order to remove some of the constraints that the businesses face.
The IFC executive, responsible for Bangladesh, Bhutan and Nepal, focusses on Bangladesh's density dividend in view of high density of its population, rather than only speaking of the demographic dividend.
"You have such high density and I would say this density is really an opportunity. If we can build our cities in a smarter manner, more modern cities like Bangkok...  that would open up up opportunities. I see this as more of density dividend rather than only demographic dividend," she told Prothom Alo in an exclusive interview recently.
Saying that the inflow of foreign direct investment into Bangladesh is low compared to competitor countries such as Vietnam or even Myanmar, Wendy Werner, however, appreciated the investment by the Shanghai and Shenzhen Stock Exchanges in Dhaka Stock Exchange, a move, which believes, will be a good step in expanding the products and strength of the equity market.
The International Finance Corporation (IFC), a member of the World Bank Group, has secured permission to issue offshore bond, outside of Bangladesh, that is taka-denominated bond, she mentioned.
"That will increase the investor base.... We will be planning to issue first Taka Bond during this year, probably in the next four months," the IFC official added. The full text of her interview is given below:
Prothom Alo: In today's Bangladesh context, where do you see the most potential opportunities for investment? What's your assessment from IFC?
Wendy Werner: IFC sees very high investment potential for the private sector in Bangladesh. It's now among the top 10 countries in IFC's portfolio. From IFC we aim for Bangladesh's investment to grow significantly so that it can be among the top five. We see significant investment potential in infrastructure, particularly power, but also energy and energy efficiency. And transport and logistics should be a significant area for private sector investment, as well as higher value added manufacturing with improved productivity that creates more jobs.
Prothom Alo: What are the major areas of IFC's financing in Bangladesh that you consider as success stories that can be replicated elsewhere?
Wendy Werner:  I think we are proud of what we've done so far in power and energy sector in Bangladesh. We worked with investors in some of the very early independent power companies. And over the years, going forward once projects are operational, we will be supporting more than 3,500 megawatts of power generation from projects that we are committed to or that are in the pipeline. We also have been at the heart of the initiative for diversification of sources of energy. We are proud to work with the government of Bangladesh and Excelerate Energy to finance and develop the first offshore LNG terminal. The terminal will start providing gas into gas transmission system from June. So this is a major accomplishment.
We also have significant work in the readymade garments sector. We have industries that are world class. And we also work on energy efficiency and water efficiency to attain sustainability and competitiveness of the sector. Our PaCT (Partnership for Cleaner Textile) programme has worked with more than 230 factories. They worked on the water efficiency in the first phase of the programme that led to $16 million dollars in cost savings and more than 21 billion litres of water per year was saved from investment in new technologies and efficiency.
We've also been a significant player in the financial sector and we have engagement with 11 banks. We've supported trade finance, which is an important part of an export-led economy as well as equity investments.
Our real goal in financial sector is both supporting the real economy but also financial inclusion, to create financial products for more of the population. One of our flagship investments is BKash which has around 29 million registered customers. The transaction that goes through BKash is right now 8 per cent of Bangladesh's GDP (gross domestic product).
Prothom Alo: Are you, from IFC, doing anything special for promoting the start-ups?
Wendy Werner: We've really been very impressed by the start-up ecosystem that has gained a lot of momentum in the last few years. We are also able to make the first venture capital investment by IFC in Chaldal, an online grocery provider. It really helps address some of the logistic challenges of living in Dhaka as well increases access to modern food products. So, that's a start for us. And we can see quite a few interesting start-ups including in the health sector. Of course e-commerce seems to be growing and attracting investment as well. But I think this is all really about addressing some of the challenges, of efficiency and productivity, challenges of transportation in Dhaka.
Additionally we can improve productivity of workers in Bangladesh through technologies as well as diversifying the export base. Maybe knowledge-based exports should be also growing in future.
Prothom Alo: What are the possible implications of Bangladesh's graduation to middle income country, especially its treatment in receiving assistance from international organisations including IFC?
Wendy Werner: In the terminology of the World Bank - IFC is an organisation of the WB Group - Bangladesh is already a lower middle income country. For us, Bangladesh is still a high priority country, because it is in the lower middle income segment. It's still considered as one that can access some of the concessional lending of the World Bank. So, the fact that we have a major population who still need access to services, access to roads, access to power, means Bangladesh is a high priority country to IFC's investment and as I mentioned, we are accelerating our investment. As far as what needs to be done in the graduation process from LDC (least developed country), the role of the private sector investment should be more prominent in the development strategies for Bangladesh. The FDI (foreign direct investment) into Bangladesh is fairly low compared to competitor countries such as Vietnam or even Myanmar. The FDI Myanmar attracts is 5 per cent of its GDP whereas FDI is only 1 per cent of Bangladesh GDP. Even Cambodia has a very high FDI inflow close to 11 per cent of its GDP. So, we need to consider these are the competitors when it comes to our manufacturing base. We need FDI to improve technology, to improve productivity, to diversify the export basket as well as to fund better services for the Bangladesh people.
I think there will be increasing focus on the capital market. The investment by the Shanghai and Shenzhen Stock Exchanges in Dhaka Stock Exchange will hopefully be a good step in expanding the products and strength of the equity market. From IFC point of view, we would like to see more on expansion of the bond market. All of these will provide the corporates and project financing many more options to attract other investors. Since the volume of finance needed to complete Bangladesh's development objectives is quite significant.
We have permission to issue offshore bonds outside of Bangladesh, that is, taka-denominated bonds, that is IFC bonds. IFC backs the bonds but they are linked to the taka exchange rate. So the positive value of this is a couple of different things. First of all, it provides portfolio investors, who will invest only in bonds and equities, who are international investors, can get access to the country. There are investors who are not quite willing to come and set up shop and register so that they can buy things domestically. But they will be interested in an offshore bond. That will increase the investor base. It will be registered in London, but they will be local currency bonds. The idea is to bring in new investors on the one side. Second, this helps to establish a benchmark so that other corporate can do more bond issuances and there could be more public markets on bonds. Third, for our clients and our potential clients, taka bonds will enable us to provide taka-denominated financing. We have had very strong interest from our clients. We will be planning to issue the first Taka Bond during this year, probably in the next four months.
Prothom Alo: How would you evaluate the state of corporate governance when companies are hardly open to the people or rarely maintain transparent balance sheets?
Wendy Werner:  Corporate governance is very important in our investment decision making process but also important for the overall private sector. We have a significant programme on corporate governance advisory, both to individual clients but also on sector-wide basis. I think there has been certain attention to corporate governance from the regulators and I expect that should provide a better baseline for companies about how they should be approaching the corporate governance. As we deepen in the capital market including both on stock exchange, IPOs (initial public offerings), bonds, etc, corporate governance will also be demanded by the investors more. I think we will get to the point where we have that sweet balance between investors demanding more transparency on corporate governance and companies understanding also business value to that. Right now, we have of course significant portion of the corporate sector that is family-owned businesses. Strong corporate governance has significant benefits for family-owned businesses, even putting aside the investor angle - for success planning, for understanding business models better, for separating the responsibility. We've seen there have been more companies interested in learning, and understanding what's meant by good corporate governance. And there are companies that have very good practices in their companies. So I think this is progressing and it will continue to expand improving corporate governance.
Prothom Alo: Why isn't the cost of doing business coming down despite some sort of stability on the political front? Why has the country seen a huge amount of capital flight in the past decade?
Wendy Werner: I think doing business continues to be a challenge. The government has in fact only in recent times targetted the doing business ranking of the World Bank, as a way to organise their own reforms programmes. Many countries have targetted their doing business ranking quite some time back. So, this is important that the Bangladesh government has made a decision to address this problem. I think, there is a fairly embedded bureaucratic system that has to be changed or reformed in order to address some of the constraints that the businesses face. I think, what Bangladesh needs is investment by simplifying investment process, investment approvals, understanding of what private investment and project financing look like, [and that] should be one of the key targets for improving overall investment climate and doing business and the cost of doing business.
I am not sure whether capital flight is increasing or not. I am not sure all of those reports are fully taking everything into account. There are Bangladeshi companies that are interested in investing outside of Bangladesh. There has been a handful that has received approvals. I think opening up and liberalising the ability to make investment outside and also to allow companies like venture capital - you need to liberalise both sides and try to become more competitive. That is the best to try to address the challenge.
Prothom Alo: How optimistic are you about the success of special economic zones in attracting investments, including foreign investment? Why or why not?
Wendy Werner:  I am fairly optimistic. The fact that there has been very clear policy framework that zones will be focussed on the government's programmes and they have set up the authority and they put in place regulations and also the assets and land and investments necessary to go into the zones have been put in place. So, this is an extremely significant effort to both domestic and international investors. And it comes from having identified that land is one of the key constraints. So, it makes a lot of sense, Now I would like to see a large number of zones attracting multiple customers, multiple clients, multiple manufacturers in different kinds of industries. And then we can get to the 100. I think there is a bit of work going on. I expect that they will be big opportunity. These are the things that will definitely attract foreign investors. For any investor, land is one of the primary issues. If it is easy to get land, and to have everything you need - logistics, power, gas -I think, that will definitely increase customers.
Prothom Alo: Inflow of foreign investment into Bangladesh declined in 2017. What would you say about this if indicative of a trend before an election year?
Wendy Werner:  As I mentioned, some of the processes for attracting foreign investment need to be streamlined, and need to take into account the types of investment that Bangladesh needs. Private investors negotiate terms on a commercial basis and they consider risk profile of the projects. So, all these are considered together and that needs to be able to receive quick approvals and with transparency from the government. I think there is also a challenge that some large investments may wait, during an election year. -That is natural and it is nothing to do with Bangladesh. That's a natural process of the cycle. But I have also noticed many domestic investors are certainly not slowing down their investments. Which I feel is a strong indication that there will be continuity. Investment will come from the private sector and that probably comes from success of the economy.
Prothom Alo: Given the questionable quality of education, the governance crisis, and dysfunctional institutions, don't you have any apprehension that Bangladesh may miss the potential of its demographic dividend?
Wendy Werner:  I think demographic dividend is still something that Bangladesh is capitalising on and can still capitalise on. There is a high potential for companies to focus on increasing productivity, skill development and higher value added manufacturing. There are many companies that are making this sort of investments on the capital side, which then will be complemented by increasing skills. We even see in RMG, we work on skills of women, RMG workers so that they also continue to gain the benefit as we go to higher value added products. There is more that needs to be done in the education system to make sure that they provide skills to students that are employable in the marketplace. We can also build up on the potential of density dividend. Actually the urban spaces have been seen as challenge of infrastructure but they also are an opportunity. For instance, some of these start-ups can really take the skills much faster in Bangladesh. Because you have such high density and I would say this density is really an opportunity. If we can build our cities in a smarter manner, more modern cities like Bangkok - we don't need to go Hong Kong or Singapore level and we just need to go to the level of Bangkok. That would open up plans, open up opportunities. I see this as more of density dividend rather than only demographic dividend.
Prothom Alo: What do you foresee about Bangladesh's economic journey in view of political order and tensions in the global system?
Wendy Werner:  This shows Bangladesh should very much focus on its own competitiveness. Relying only on preferential trade approach to Europe or US would not be a sustainable basis, comparative advantage. Looking at fundamentals of the skills, on the policies, on attracting right kind of investment, new kind of technologies is going to the way to compete with some of the power houses in the region and in Asia as well. You can take the analogy of North America. Mexico's GDP per capita is higher than Bangladesh but that is a fair comparison. Actually, Bangladesh has a better location, between India and China, two of the biggest markets in the world. So, focussing on where the strengths of Bangladesh, it's been very competitive in getting higher value garments from China and now we can hopefully graduate to higher value space and address transportation and logistics. And this can become a competitive advantage rather than disadvantage.
Prothom Alo: Would you recommend a set of measures that the country can take for improving business competitiveness simultaneously ensuring benefit of development to its citizens?
Wendy Werner:  There are a number of key policy priorities that the government can really focus on. One is, continue to expand financial inclusion, financial services for the poor as one of the most effective ways to bring people out of poverty and allow them opportunity to be entrepreneurs and to engage in e-commerce and to have better knowledge even at the level of agriculture. Liberalisation and expansion of technology-enabled financial services, mobile financial services, payments technology will be very important for Bangladesh. As I highlighted, hitting the core issues of the policy framework behind constituting business will be foundation stone for being successful in future. I think, one of the key policy priorities has been and should continue to be addressing the taxation structure and VAT (value added tax) system should be put in place with transparent methodology and reliance on customs duty should decline, as well as to ensure that the ability to file and become part of taxation is simple and fair. That will increase more formal businesses, giving the government better revenue. The objectives of these things are to enable greater entrepreneurship, growth of businesses that will then create jobs. These are some of the best policies that you need to take in order to attract high end or value added manufacturing with good jobs but also to help local businesses to grow and expand. This will also help job creation and entrepreneurship. Inclusion is something that benefits everyone, both as an investor, as a consumer, as a worker.