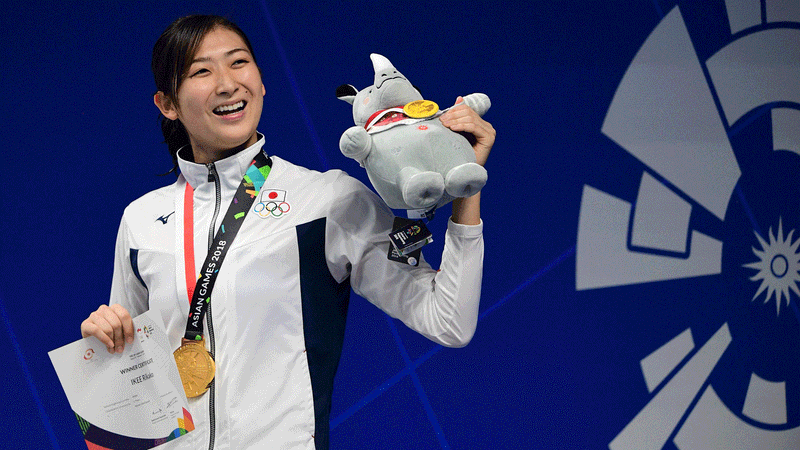 For someone carrying a nation's hopes and dreams on her shoulders, Japan's teenage swim sensation Rikako Ikee looks unfazed.
After scooping a record six gold medals at a breakout Asian Games, the 18-year-old knows she will come under intense pressure to deliver at the 2020 Olympics in Tokyo.
But far from viewing her Jakarta success as a burden, Ikee says it will spur on.
"Pressure for me is something I thrive on," Ikee told AFP in an interview.
"There will be a lot of Japanese fans cheering for me at the Tokyo Olympics in my home city -- maybe even some from overseas too -- and that's going to give me great strength."
"The more fans that come, the stronger I'll be," added the record-breaker. "When it comes to swimming, I just really hate to lose."
Ikee stormed to a historic sixth swimming win in the women's 50 metres freestyle on Friday, becoming the first woman in any sport to snare six golds at a single Asian Games.
Japan's new swimming pin-up shrugged it off as "a pretty ordinary day", demonstrating the sort of sang-froid that will strike fear into her rivals.
"I had targeted five gold medals so I was happy to tick that box first," said Ikee, who captured titles in the 50m butterfly, 100m fly, 50m free, 100m free, 4x100m free and the 4x100m medley.
"I had some tough days last year so to come back like this is amazing," added Japan's golden girl, who was devastated at finishing sixth in her strongest event, the 100m butterfly, at last year's world championships.
"My body hurt and mentally I was at breaking point. But I tried to hang in and find a way."
- 'I can definitely swim faster' -
All of her Jakarta titles came with a Games record, but Ikee has loftier ambitions.
"You have to do what you have to do to win races but some of those times weren't special," she shrugged.
"I can definitely swim faster. But going through this kind of experience will give me extra motivation to improve."
Ikee grabbed the headlines from Chinese superstar Sun Yang in a superb meet in which she finished with eight medals in total, a haul previously achieved only by North Korean shooter So Gin Man in 1982.
"It gives me confidence knowing I can beat my Asian rivals, it's a big step in the right direction," she said. "Now the plan is to become a world champion."
Ikee admits, however, that it could take a world record to achieve her goals.
"I haven't swum under 56 seconds yet so I'm still a little way off," she said, pointing to Sarah Sjostrom's world best of 55.48 in the 100m butterfly.
"But to win gold at the Olympics I might have to break a world record," added Ikee, who clocked 56.08 to win the Pan Pacific title earlier this month.
"I have to get closer to Sarah's record for sure."
Next year's world championships in Korea will be provide the acid test for Ikee as she plots her gold medal assault in Tokyo.
"Of course I want a medal with a 'nice colour' in 2020," she said. "But the first step is to win medals next year -- then take that momentum into the Tokyo Olympics."