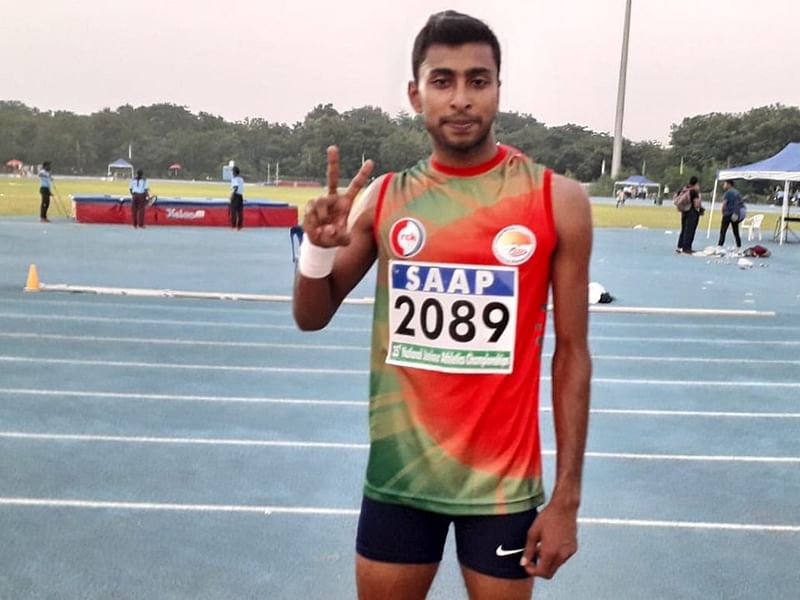 Mahfuzur Rahman clinched the 2nd gold medal for Bangladesh in high jump on the 3rd day of the 35th Indian National Junior (U-20) Athletics Championships '2019 held at Acharya Nagarjuna University in Andhra Pradesh of India on Monday, reports UNB.
Bangladesh Navy athlete Mahfuzur Rahman jumped 2.10-meter to win the event's gold medal.
Earlier on Sunday, Md Jahir Rayhan of Bangladesh Navy clinched the gold medal for Bangladesh in the boys' 400-metre run with a timing of 47.34 seconds.
Mahfuzur Rahman earned the event's gold medal with new national record in the last Summer Athletics meet Dhaka last August jumping 2.15 meters.
The five Bangladeshi athletes—Mahfuzur Rahman, Jahir Rayhan, Saiful Islam Khan, Rakibul Islam of Bangladesh Navy, and Umme Hafsa Rumki of Bangladesh Jail (prison directorate) are taking part in the Indian Junior meet as a part of their preparation for the upcoming South Asian Games scheduled for December next in Nepal.