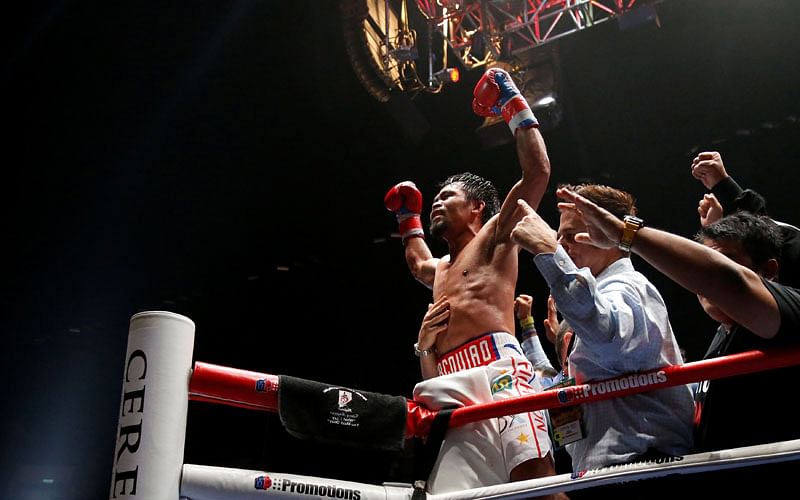 Millions of boxing fans across the Philippines erupted in cheers and tears of joy on Sunday after national icon Manny Pacquiao beat Argentine Lucas Matthysse in a world title bout.
In the run-up to the fight 39-year-old Pacquiao was trailed by whispers that he was past his prime and doubts he would be able to best the big-punching Matthysse, who is four years his junior.
But when Pacquiao's victory was sealed in the seventh round by technical knockout, fans around the nation of 100 million jumped to their feet and roared with joy.
"I was confident he could do it. It's not about his age," Christopher Lasala, 39, told AFP. "I was so happy when he knocked out Matthysse, I kept clapping. I said I knew Pacquiao would win."
Flora dela Paz, a life-long boxing fan, had tears streaming down her face as she watched Pacquiao raise his arms in victory.
"I am just so happy. I got goosebumps," the 68-year-old retired shoemaker told AFP. "He won, he won!"
Pacquiao's rags-to-riches story, from high school dropout to millionaire world boxing champion in an unprecedented eight weight divisions, is a huge source of pride in the Philippines.
In keeping with tradition, many Filipinos stopped what they were doing to watch Pacquiao's fight, which took place around midday on Sunday in the Philippine time zone.
President Rodrigo Duterte, who attended the bout at the Axiata Arena in Kuala Lumpur with Malaysian Prime Minister Mahathir Mohamad, flashed a thumbs up after Pacquiao's win.
The boxer, who has a glittering 23-year career in the sport, is also a lawmaker in the nation's senate and a staunch ally of the president.
"This win will surely cement, yet again, your position and legacy in boxing's Hall of Fame," Duterte said in a statement. "May you continue to inspire Filipinos."
Following the fight, #PacquiaoMatthysse was the top trending topic on Twitter in the social media-obsessed Philippines, along with the hashtags "Manny" and "Fight of the Champions".
Sports journalist Ryan Songalia tweeted: "Manny Pacquiao was always one knockout win from being the hottest property in boxing again. He reminded people why they loved him in the first place."