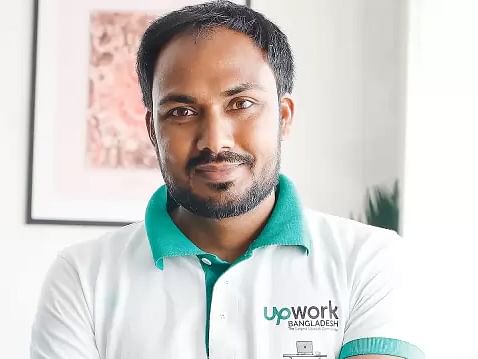 There was a time he had to work borrowing laptops from his friends. But engineer-turned-freelancer Suman Saha now earns around $5,000-$6,000 every month.
Suman's expertise includes performance testing, technical support, mobile app development and so on.
His family plunged into financial crisis following the marriage of his three sisters, but Suman, a computer science and engineering graduate from Mawlana Bhasani Science and Technology University, did not lose hope.
Sometime later he managed to arrange the money to buy a laptop with the help of his family members. "Those were hard times. Once I could not buy textbook at the beginning of a semester. I took notes from my classmates' books and from the teachers' lectures," he said.
His father, who owned a sweet shop, plunged into debt. "My parents never uttered a word, but I always understood the situation. I felt I won't be able to do anything to change things. Even at one point, I decided to assist my father at the sweet shop."
It was then, the young graduate came to know about a software institutions' job fair to be held at Bangladesh Computer Council in Dhaka. A software institution offered him for internship at the fair opening the opportunity to learn about outsourcing.
"I opened an Odesk (currently Upwork) account. I was teaching myself browsing the internet. Then, I began bidding, but did not get any job. I got disappointed and considered working in the local market first. In the meantime, the institution I worked with offered me a job."
In 2012, Suman began working in the marketplace again. He received a five dollar software testing job. The client later hired him for three more jobs on a higher payment. He went on working. In 2013, he was selected among two chosen from a list of 52 people for an iPad application test. Suman did not have to look back after this.
He is an admin for Bangladesh Upwork Group, largest community for Bangladesh freelancers. He wants to cooperate with the newcomers in the sector. "Freshers should try IOS and Android development as competition is less there. Success is sure to come if they are persistent."
The young freelancer comes from Alinagar village in Shibpur upazila of Narsingdi. His wife Sandhya Roy is a freelancer, too. The couple has a child.