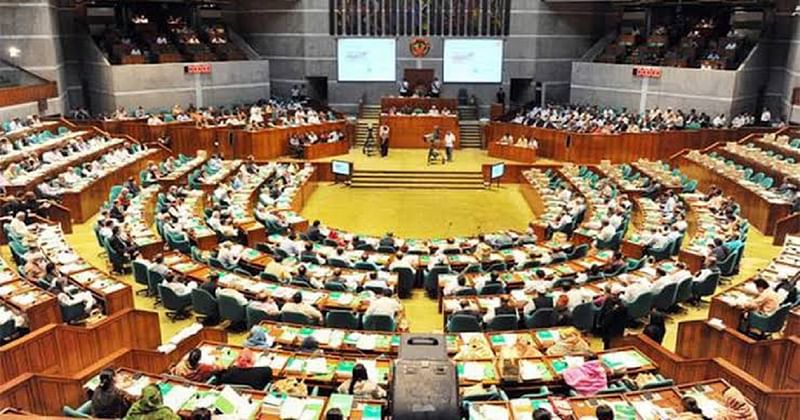 The Jatiya Sangsad on Wednesday unanimously adopted a historic motion declaring a planetary emergency on account of the crisis due to climate change and calling on the global community to act urgently and decisively in achieving the net zero (carbon) emissions well before 2050.
The Bangladesh Parliament is the first legislature to adopt such a resolution, as revealed during the long discussion on the motion.
The House passed the motion ahead of the upcoming COP 25 - the UN's annual climate conference scheduled to take place this year from 2-13 December in Madrid. The Conference of Parties (COP) is the supreme decision-making body of the Convention.
Ruling Awami League lawmaker Saber Hossain Chowdhury piloted the motion in the House.
The MPs across the benches passed the motion unanimously by voice vote when speaker Shirin Sharmin Chaudhury, who was in the chair, placed it for voting following the discussion.
Taking the resolution, the House declared a planetary emergency on account of existential crisis of climate changes, devastating impact of disasters and increase in extreme weather events, irreparable loss of bio-diversity, looming food insecurity, rising water stress, unprecedented pressure on oceans and unsustainable use of resources.
"The global community must act urgently, decisively and with considerably higher ambition in achieving net zero emissions well before 2050, capping temperature rise to 1.5 degree celsius and transitioning swiftly to low carbon economies as overarching priorities," said the Bangladesh Parliament.
"Despite being least responsible to these problems, Bangladesh and many other countries in developing world, including Small Island Developing States (SIDS) are the most impacted and vulnerable," said the Parliament adding that actions at global levels have not matched commitments and rhetoric.
It said planetary justice and climate equity demands that these vulnerable countries are assisted with finance and technology to meet their development aspirations in the quickest and the shortest time.
The House, therefore called on parliaments, governments, the United Nations and all stakeholders to work on a war footing, as custodians and as one team, to protect and fortify our planet- the only Home we have.
Environment, forest and climate change minister Md Shahab Uddin, state minister for Foreign Affairs Md Shahriar Alam, state minister for Power, Energy and Mineral Resources Nasrul Hamid, Awami League MPs Tofail Ahmed, Begum Matia Chowdhury, Sheikh Fazlul Karim Selim, Rafiqul Islam (Bir Uttam), Kazi Nabil Ahmed, Nazrul Islam Babu and Waseqa Ayesha Khan, BNP MPs Harunur Rashid and Rumeen Farhana, Jatiya Party MPs Mujibul Haque (Chunnu) and Rustum Ali Faraji, and Jasod MP Shirin Akhter supported the motion joining the discussion.