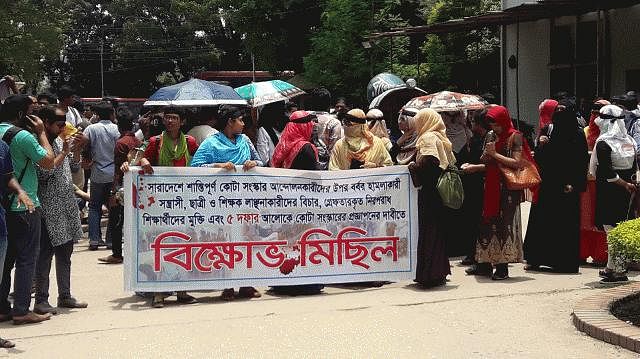 Students and jobseekers who have been demonstrating for reforms in public service quota system, on Tuesday reiterated their demand for immediate publication of the gazette with changes in the system as pledged by the prime minister.
They also demanded immediate release of the leaders of the movement who were detained by the police in recent times.
"We've withdrawn our earlier decision to boycott classes and examinations. Our three conditions have to be implemented," said quota reformist leader Nurul Haque while addressing at a demonstration on Dhaka University campus.
Now, their three conditions are publication of quota reform gazette, release of detained quota reformists and punishment of those who assaulted students and teachers.
The quota reformists under the banner of Sadharon Chhatra Odhikar Sangrokkon Mancha (General Students' Right Protection Mancha), staged the demonstration at Raju Sculpture.
The platform's joint convener Nurul Haque demanded implementation of a five-point demand including changes to 10 per cent quota in the government jobs in stead of 56 per cent.
He alleged that a conspiracy has been hatched against the quota reform.
The government-assigned quota reform committee was given 15 days and later 90 days to submit its report. "This delay is a conspiracy," Nurul pointed out.
He went on to say, "We are ready to sit with the prime minister to discuss the issue of quota reform. If she gives time, we can make her understand."
On 11 April, prime minster Sheikh Hasina announced in parliament that the existing quota system in the public services will be abolished.
While bringing out a procession from the central library of Dhaka University around 11:30am, the demonstrators wrapped black cloth around their head to protest death of two students of Shaheed Ramiz Uddin Cantonment College in a city road crash. They observed one minute of silence in remembrance of their deaths.