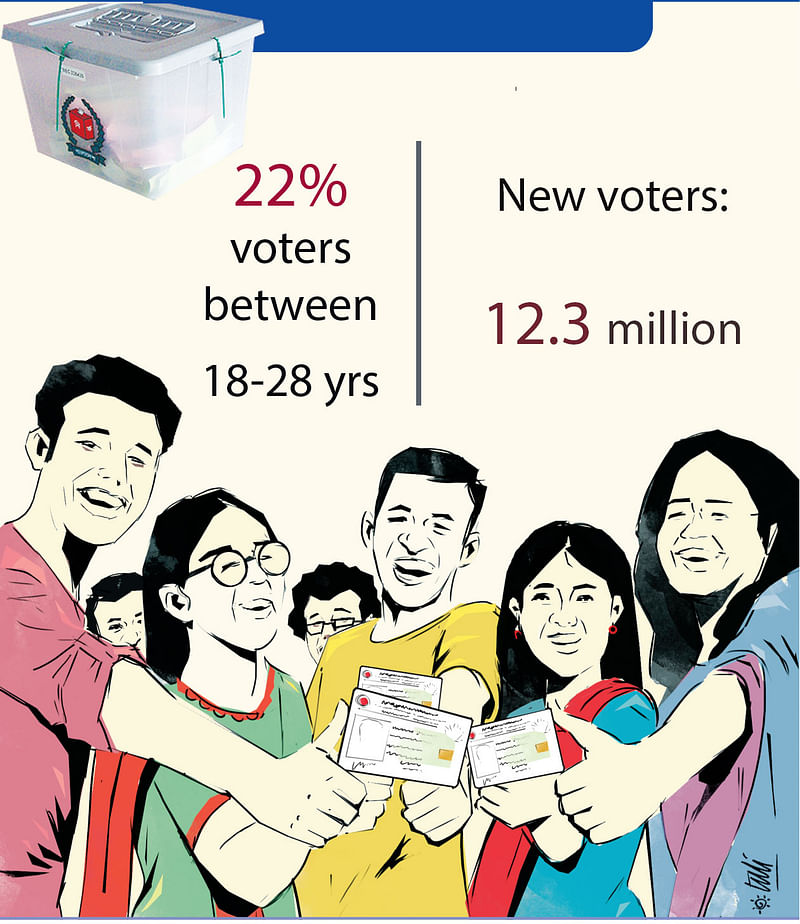 Young people, who constitute 22 per cent of the country's total voters, are expected to play a critical role in upcoming general elections.
And this is a matter of concern for major political parties including the ruling camp.
There were 13.7 million new voters during the 5 January 2014 elections, but most of them could not cast their votes as voting was not held in 154 constituencies at the time and major opposition parties boycotted the polls.
In addition to them, 12.3 million new voters have been added to the list for exercising their rights this year.
So, a total of 25 million fresh voters, almost one fourth of the total voters, may cast their votes for the first time in next general elections.
Major political parties are considering the fact that these young voters may play a vital role in determining the election results.
Election experts say a free and fair environment is needed to encourage these large number of voters to cast their votes.
Young voters who were born around 2000 are called Generation Z and most of them are not directly engaged with politics.
People from the generation born after the millennium are mostly very tech and gadget savvy, suggest several international studies. These youth see themselves as 'global citizens'.
These people, studies say, feel their needs have to be given prioruity if they are to be attracted as voters.
However, there is no catergorisation of voters arranged systematically by age groups, said officials of the election commission secretariat.
According to Dhaka University's population science department, around 22.70 per cent of the country's population was between 18 to 30 years in age in 2016.
Former election commissioner M Sakhawat Hossain think a major challenge of the political parties is to attract the young voters.
"The election commission can take up special programmes. Both ruling Awami League and opposition Bangladesh Nationalist Party (BNP) have their fixed votes. The support of swing voters will influence the outcome of the election," he told Prothom Alo.
The AL undertook programmes like 'Digital Bangladesh' through its 2008 election manifesto, to attract youth that led the party to win the elections.
Several AL policymakers have confirmed that the AL is planning such programmes in the party's election manifesto this time as well to attract young votes.
On the contrary, the BNP thinks a large number of youth have an adverse attitude towards the AL due to the hostile government actions taken during quota reform movement and students' demonstration for safe roads.
The opposition has been thinking of including issues such as boosting facilities in information and technology sector, introducing new services, increasing higher studies facilities, creating job facilities, arranging stipends for female students and so many other such programmes.
"No matter what the parties include in their manifestos, the young voters will be on the side of the party that will meet those promises," said Rakibuzzaman, the president of shadow United Nations of Dhaka University.
The number of unemployed people in the country now is 2.7 million, says an official estimate. Around 2 million youth are entering the job market each year.
But, the number of people joining jobs each year is only 1.3 million.
The number of unemployed youths has doubled in the past seven years only, according to the International Labour Organisation (ILO).
The rate of unemployment among the higher educated youths is found to be more than any other section.
Moreover, a large section of youths are not in education, or taking training or looking for jobs. Most of them are females.
In this context, certain youth have told Prothom Alo that they are thinking about several issues before the general elections.
Such issues include job opportunities, freedom of speech, creating an environment conducive to entrepreneurship, decreasing fees for job exams and stopping appointment of university teachers on consideration of party allegiance.
Issues of recent youth movements also made indication of what they want.
Hasan Al Mamun, convener of Bangladesh Sadharan Chhatra Odhikar Sangrakkhon Parishad (Bangladesh General Students' Rights Protection Council), a platform of those that waged the movement for reforming quota in government jobs, said, "The youth are eagerly waiting to see what steps the parties are taking to create employment opportunities."
An analysis of the results of past elections shows a marginal difference between votes of the Awami League and the BNP.
In this situation, the party that can bag votes of youth will benefit in the polls.
* This report, originally published in Prothom Alo print edition, has been rewritten in English by Farjana Liakat