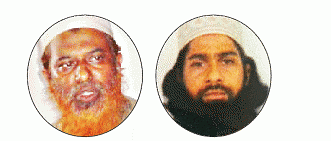 It was through a series of bomb blasts, precisely 500 explosions in 63 districts on 17 August, that Jama'atul Mujahideen Bangladesh (JMB) made their presence known.
Then in the next six months the organisation rapidly lost ground, with the arrest of its founder and top leaders. The following year they were hanged and the organisation was virtually wiped out by the law enforcement agencies.
Now, after 11 years, the organisation is resurfacing again. They returned to the scene most menacingly, with the 1 July carnage at Holey Artisan Bakery and Restaurant in Gulshan, Dhaka.
The organization, however, is claiming to be IS (Islamic State). On the other hand, the police call them 'neo-JMB'. They have emerged from the main JMB and are organising themselves separately.
Outside of the 'neo-JMB', two other factions of the organization have reportedly merged recently and elected new leaders. This faction claims to be the mainstream JMB.
An official of the counter terrorism and translational crime department told Prothom Alo, Salahuddin alias Salehin is now the acting amir of this so-called mainstream JMB. This is the Salahuddin who was snatched from a prison van in Trishul, Mymensingh, and whisked away by militants in 2014. He is from Bandar upazila, Narayanganj.
A senior officer long involved in anti-militancy programmes, has said that the absence of effective integrated measures against militancy and lack of intense monitoring by the intelligence agencies over the past 11 years has led to this menacing resurgence of JMB. He said, no one imagined JMB would rear its head again. The intelligence agencies and other forces occasionally arrested militants, but no round-the-clock watch was in place. No watch was kept on militants who were released after completing their prison sentence or came out on bail.
The officer said integrated measures should have been taken from way back in 2007, setting up a specialised anti-militancy force or department, from where investigations, interrogations, monitoring and other actions would be coordinated and carried out.
Observers say, after the hanging of the top leaders in 2007 and the arrest of the amir Saidur Rahman and many more militants, a sense of complacence had befallen the law enforcement agencies. They thought the militancy chapter had ended, but ideological extremist groups cannot be wiped out so easily. Until and unless the ideology itself is uprooted, these groups will pop up in one form or the other. And if a conducive internal and external environment is in place, this gives them a fresh lease of life. This was evident in the Gulshan attack.
Speaking about this revival of JMB, head of the police's counter terrorism and transnational crime department Monirul Islam told Prothom Alo, the global spread of terrorism has impacted Bangladesh too. Many have been inspired and organised here. But the police has the capacity to contain them.
Reorganisation
After founder Shaikh Abdur Rahman, the police arrested JMB's second amir Maulana Saidur Rahman and several other important leaders and members. There was then a lull in the organisation's activities. Prothom Alo's investigation reveal that some of the members then leaned toward Ansarullah Bangla Team.
From 2011, JMB members who were still free began to reorgsnise themselves. Saidur and other militant leaders reportedly issued directives from within prison. In 2013 the militants carried out killings in Khulna and Dhaka, but the law enforcement agencies did not grasp the gravity of the situation.
The government security forces received a wake-up call on 23 February 2014 when militants ambushed a prison van in Bhaluka, Mymensingh and whisked away top JMB leader Salahuddin and two others ('Boma' Mizan and Hafez Mahmud). It then came to be known that JMB was divided into three and was being organised under separate leadership.
From prison, Saidur Rahman was organizing one faction at the the grassroots through his son Abu Talha Mohammed Fahim (arrested on 27 July 2015 in Dhaka). Another faction was being organised from India by Salahuddin and Zahidul Islam alias Boma Mizan who had been snatched from the prison van.
Several officers who had monitored activities of the militants and supervised investigations in this regard, said this faction of JMB had planned a massive sabotage in the country towards the end 2014 to let their presence be known. However, the plan fell through when an explosion took place at a JMB hideout in Burdwan, India, where bombs were being manufactured. Recently this faction and that of Maulana Saidur merged, with Saidur as the amir and Salahuddin as acting amir. This faction is active on the other side of the border in India too, where several have been arrested in recent times.
The other faction of JMB basically adheres to IS ideology. Though they claim to be IS, the government rejects such claims, maintaining that IS does not exist in Bangladesh and this is just a part of JMB.
There is no definite information concerning the identity of the leader of this 'neo-JMB'. It is not known whether he is in the country or operates from outside, though additional commissioner Monirul Islam yesterday said that they have managed to identify seven or eight 'masterminds' of the group, in addition to Tamim Chowdhury and Marzan.
Among those identified, Canadian national of Bangladeshi origin Tamim Ahmed Chowdhury is considered to be a key figure. He came to the country on 5 October 2013 and was the liaison between the local militants and outside. There are reports of such networks being set up prior to this by Bangladeshi residents in the UK who were linked with extremism.
Sources in the law enforcement agencies say that two important organizers of the 'neo-JMB' have been identified as Ripon and Rajib from North Bengal with backgrounds in madrassa education. It is assumed that 'neo-JMB' has contact with some of the Bangladeshis who have joined up with IS in Syria.
Director of legal rights organisation Ain O Salish Kendra, Nur Khan, has been studying JMB activities from the beginning. He said that there was a significant difference between this so-called neo-JMB and the the JMB established in 1998 by Shaikh Abdur Rahman. Rather than poor and lower-middle class youth, it was young people of the middle and upper classes with modern education that were joining neo-JMB. They included doctors, engineers, lawyers and persons of other professional backgrounds. Persons living or studying abroad were also in this group, and maintained international connections.
It was these non-resident Bangladeshis, including those who had returned to the country, who first began instilling the idea of 'hijrat' or leaving home. According to Mohammed Nur Khan, a large section of the law enforcement agencies lack an understanding of this concept. And it cannot merely be taken as a law and order issue. The ideological aspects, as well as domestic and international circumstances, have not been taken into due consideration.
A senior law enforcement officer agreed with this observation, saying that tackling such religious ideological groups required a long-term plan. That was lacking.
Security expert Air Commodore (retd) Ishfaq Elahi Chowdhury told Prothom Alo that till now no strategy to tackle militancy in the country has been formulated. There is no work plan determining the respective roles of RAB, police, intelligence agencies, the education ministry, the cultural ministry and others, in countering militancy. He said, public consciousness and awareness had developed after the Gulshan attack. The government should put this public awareness to use and involve all quarters in coordinated effort.