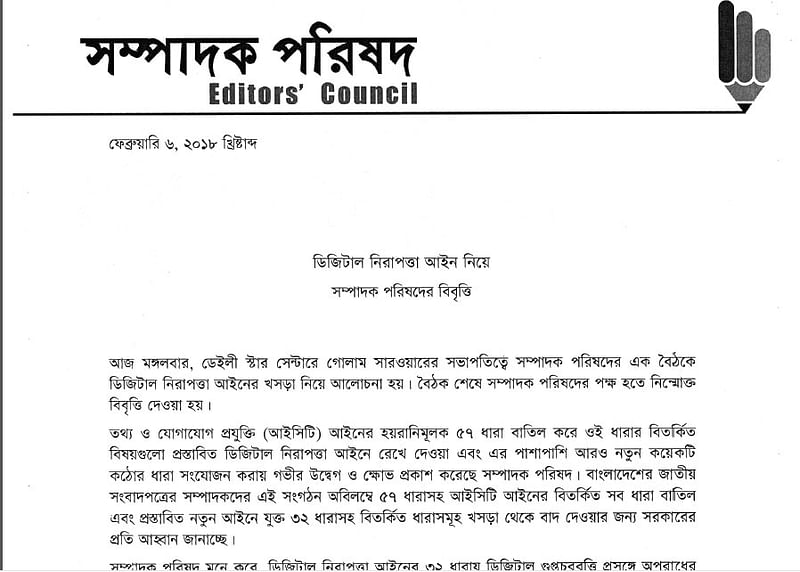 Editors' Council has asked the government to drop the controversial section 32 of the proposed digital security act.
In a statement signed by council's secretary general, Mahfuz Anam, on Tuesday, the council expressed conviction that if enacted, the law would create an atmosphere of stopping pursuit of journalism independently.
"The section 32 of the digital security act that defines [journalism as] digital spying and keeps provision for punishment is an attack on the democratic spirit and the freedom of expression," the council said.
The council members held a meeting chaired by its president Golam Sarwar at The Daily Star centre and discussed in detail the draft of the Digital Security Bill 2018, endorsed by the cabinet.
In its statement issued afterwards, the council protested at and expressed concern at the drafting of yet another draconian law, instead of scrapping the controversial section 57 of the ICT Act.
The section 32 of the proposed digital security law has equated journalism with spying and kept provision for 14 years of imprisonment for such "offence".
The council recalled that the law minister assured journalists of removing all controversial provisions of ICT and other acts that hinder the journalistic practice.
"The proposed law is harsher. It will only shrink the space for independent journalism and expressing opinions," the council added.
The council leaders called on the government to hold talks with stakeholders before passing the law.